By Sara Alvarado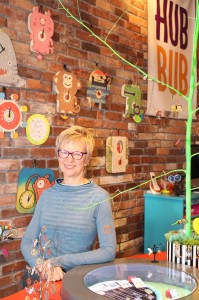 If you have recently explored downtown Centralia you may have noticed a colorful sculpture park and a quirky, colorful storefront. And if you haven't, well you definitely should. Welcome to Hubbub, a place that embraces art, color, culture and fun. I had a chance to talk with owner, Rebecca Staebler, about her passion for the arts, her loyalty to Centralia, and her really cool business.
Raised in Centralia and a self-proclaimed "Centralia girl," Rebecca is proud to have her roots here and is very proud to be a business owner in downtown Centralia. Rebecca left her hometown to go to college and then went on to pursue a career in publications.
"I've always had an interest in arts and crafts and design," Rebecca shares. While she was away at school, she fell in love with American hand crafts and functional art. Rebecca explains that it can be tricky defining this kind of art. But to her it is art that has a purpose or a use in everyday life.
In 2002 Rebecca moved home to Centralia to be closer to her mother. Back in her hometown she became involved with ArtTrails of Southwest Washington because she wanted to help support working artists. Her involvement with ArtTrails introduced Rebecca to other local business owners who were wanting to preserve the history of downtown Centralia while at the same time helping to diversify and move the community forward.
Rebecca says, "It's been great being in downtown Centralia. The business owners here are all passionate about our community. We share and support each other to help make the whole town better."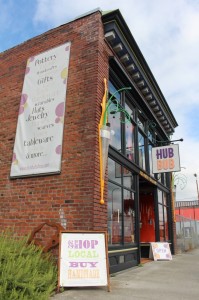 Rebecca began to think about "what if." She decided that she wanted to open a place that could showcase art and support working artists while at the same time giving the community a place to interact with art. "So, it was kind of crazy, but I decided to buy a building in the middle of a recession," Rebecca states. And, Hubbub was born.
Hubbub features "art for every day." Rebecca prides her business on being able to provide an eclectic mix of hand crafted items for all ages. Her store is fun, creative, and full of color. "I want people to be able to come in and find something special whether they want to spend $3 or $300," Rebecca explains.
Every item that Rebecca carries in Hubbub shares the stories of the art and the artists who create the pieces, as well as educates customers about working artists. "When people ask me why my shop is here and not in Seattle or San Francisco, it's because Centralia needs me here," she explains.
In addition to owning and operating Hubbub, Rebecca owns and maintains a lot next to Hubbub's storefront that she has purposed into a sculpture park, named The Hubcap.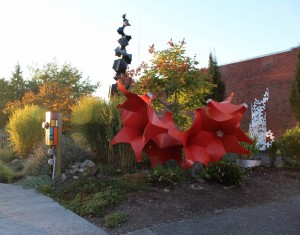 The Hubcap is open to the public and it is a gift of art to the community. There are chairs and nooks and crannies to sit back and relax with a good book, and a cup of coffee and appreciate the stunning sculptures that dot the small park. When you visit The Hubcap, the sculptures and the flowers make you feel instantly transported to someplace magical.
Rebecca is always busy working with others in the community to advocate the arts and to help grow arts programs within Centralia and the greater Lewis County area. She is a sponsor and supporter of the historic Centralia Fox Theatre and a member of ArtTrails. Rebecca also hinted that she has a few other fun and secret ideas she has in the works to bring in even more arts celebration to Centralia.
"I want to help get us on the map as an art town. There's already a lot that we have here and we need to celebrate it." Rebecca highlights that in the Lewis County area there are two ballet companies, a wind symphony, community concerts, a historic theater, a play house, and several visual artists. Her vision is to help bring the community closer together with the arts.
Another part of Rebecca's vision includes helping children access opportunities to play with and create art. Rebecca excitedly shared that the Bethel Church in downtown Centralia has started a School of the Arts which offers arts classes for ages five and up. Rebecca says that she would like to see even more opportunities for kids in the community to access the arts.
As Rebecca says, "The arts make a community healthier, and they are essential to a community." Thanks to a lot of hard work on Rebecca's part and others that she works with in the community, there are many exciting things headed for Centralia's artistic future.
Visit Hubbub online or at 505 North Tower Avenue in Centralia.