By Sara Alvarado
Walking up at Iva Hill's Centralia home, she quickly opens the door and greets Cathie Painter and me with a hug and a happy hello. Iva has recently celebrated her 93 birthday and she has been a volunteer in Centralia School District for the past 24 years.
Iva said she was inspired to volunteer in Centralia schools thanks to some of her friends in her bridge club. "There were three 5th grade teachers in the club and they would talk about how the kids couldn't read," explains Iva.
Iva was stunned to hear that 5th grade children struggled with reading. "I thought everybody could read. I couldn't imagine that there were people who couldn't because we were always a reading family."
Iva explains, "I told them that I could come in and read with the kids." Iva chose to start volunteering at Oakview Elementary in Pat Zimmerman's classroom. "Fifth grade was the perfect place for me to volunteer. My friend was teaching 5th grade and my granddaughter was in the same grade. I felt like I knew that age level."
Iva has continued volunteering at Oakview for more than two decades. Through her time at Oakview Iva has come to know numerous staff members and is very proud to call them her friends.  "Oakview staff have treated me like they're my second family. I am a part of Cathie's family," Iva proudly states.
Iva began volunteering at in the fall of 1990, the same year that Cathie Painter started teaching at Oakview. Cathie is a special education teacher and an instructional facilitator in the school.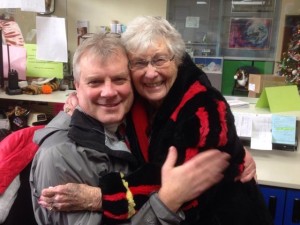 Iva shares many fond stories of spending time with Cathie's family and there is absolutely no doubt, Iva is definitely an important part of Cathie's family. "And if I never volunteered, I would never have met them – or any of my friends from the school."
And it isn't just the staff that love Iva. She has also made lasting relationships with students and their families. She says that a few of the students have gone on to invite her to their graduations and weddings. "I don't get paid for what I do. But you can't buy the friendships I've made. My pay is knowing all the teachers, children and parents."
The last 24 years have left a lasting impression on her. Iva has seen firsthand what children face in their life, and she is a determined, positive support and surrogate grandparent for many. "If more people my age realized how many of these kids don't have a grandparent hug or even a parent hug…" Sometimes one hug can change a kid's day – that's Iva's philosophy. "If I've helped a child, then I've done some good."
When I asked Iva about one of her favorite memories from volunteering at the school, she joyously told Cathie and me a story about a boy who had read with her a few times over the course of the school year. Iva said that he could be naughty sometimes. In the end, she thought that he didn't enjoy reading with her and that the time she was spending with him didn't matter. "But on the last day of school," Iva tells, "he ran in and picked me up and dashed me around! What I did mattered."
She also explains that most times when she walks into Cathie's classroom the kids would all shout out at once, "I want to read with Mrs. Hill! I want to read with Mrs. Hill!"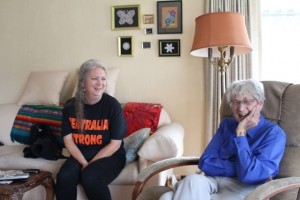 Iva does have some practical advice for anyone thinking of volunteering in a school. She says, "You're not going to be any good if you don't want to do it." So first she advises to only volunteer with children if you like them and want to help teach them. Her second piece of advice is to "keep books around, keep kids reading. Reading is one of the most important things. If you can't read, you can't do anything!"
Iva points to a basket that she keeps next to her favorite chair, "That's why I have to take two papers, so I can keep up on the world – and for the crosswords."
There is no doubt about it. Iva is beloved at Oakview and her generosity with her time and her hugs continues to have a lasting positive effect on the school and the community of Centralia.
As we wrap up the interview, Iva quickly switches gears and leans toward Cathie to discuss her volunteer times for the new school year. I know it won't be long before see Mrs. Hill is passing out hugs at Oakview.
Are you thinking of volunteering in a school now that you've heard Iva's story? Be sure to call your local neighborhood school and check with their policies and guidelines for becoming a school volunteer. As Iva says, "I was just accepted out there, and I think any volunteer would be."