Due to current events related to COVID-19, please check that events are still happening before attending. 
Easter this year is April 12 and Centralia, Chehalis and Lewis County offer many opportunities to celebrate the holiday with fun, family-friendly events. There's a range of different activities to from photo opportunities to egg hunts, candy drops and even train rides. To get into the springtime spirit, here are some egg-cellent and eggstra-special Easter events from all around Lewis County.
Centralia
Pictures with the Easter Bunny
Let's Play Something
1714 S. Gold St., Centralia
Sunday, March 29, 12:00 – 4:00 p.m.
Don't miss a chance for adorable photos with the Easter Bunny at Let's Play Something on Sunday, March 29. From 12:00 to 3:00 p.m. purchase professional pictures from Heidi Marshall Photography or take free pictures with your phone or camera from 3:15 – 4:00 p.m.
Washington Elementary School
800 Field Ave., Centralia
Saturday, April 11, 11:00 a.m. – 12:00 p.m.
For a one of a kind Easter egg hunt, don't miss the Easter Candy Drop at Washington Elementary School sponsored by Life Center. On April 11 promptly at 11:00 a.m. the Easter bunny will fly over in a helicopter and drop candy from the sky! For kids ages 1-12, the field will be partitioned off into three sections. Even if the kids don't scramble fast enough to gather a lot of candy, there will be buckets of candy on the way out to grab more.
Lewis County
Mossyrock Fire Department's Easter Egg Hunt
Mossyrock School
Williams St., Mossyrock
Saturday, April 11, 10:00 a.m.
If you live on the east end of the county and are looking for an Easter activity, the Mossyrock Fire Department's Annual Easter Egg Hunt is held on the Mossyrock School lawn. It promises to be fun for the whole family. Mossyrock and Salkum Fire Departments fill 10,000 eggs with candy, stickers and toys for ages 1-12. The Egg Hunt starts at 10:00 a.m. on April 11. Find special eggs with tickets inside redeemable for prizes. Find Sparky and the Easter Bunny for even more fun.
Pe Ell Fire Department's Easter Egg Hunt
Sunnyside Park
309 3rd Ave., Pe Ell
Saturday, April 11, 12:00 p.m.
On the west side of the county, join Fire District #11 at their annual Easter Egg Hunt at Sunnyside Park on April 11 at noon.
Chehalis
Pictures with The Easter Bunny
Newaukum Valley Country Store
2988 Jackson Hwy., Chehalis
Saturday, April 4, 2020 at 9:00 a.m. – 6:00 p.m.
The Easter Bunny will be making a special visit to the Newaukum Valley Country Store on Saturday the 4th of April. Stop by and get a free picture with the famous bunny, along with a sweet treat.
Bethel Church Easter Eggstravaganza
132 Kirkland Rd., Chehalis
Saturday, April 4, 10:00 a.m. and 2:00 p.m.
This event is so eggstra-special, there are two separate times for egg hunts. Easter Eggstravaganza is not only an egg hunt but has other fun activities such as bounce houses, pony rides and treats. Kids are divided by age to look for 70,000 eggs filled with candy or prize tickets. Age-specific hunt times are located on their website.
Downtown Chehalis
Saturday, April 11 from 12:00 – 2:00 p.m.
Join the Centralia-Chehalis Chamber of Commerce for their Spring Fling on Saturday, April 11 from 12:00 to 2:00 p.m. Hop from business to business in downtown Chehalis to hunt for Easter eggs! Bring the whole family and be sure to hop on over to the Lewis County Historical Museum and get pictures taken with the Easter Bunny.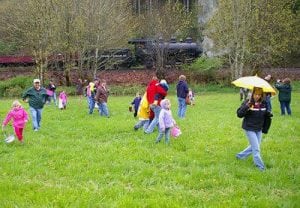 1101 S.W. Sylvenus St., Chehalis
Saturday, April 11 with departures at 11:00 a.m., 12:30 p.m., 2:00 p.m. and 3:30 p.m.
For a relaxing holiday, climb aboard a vintage diesel train for a thirty-minute Easter Train Ride through the countryside. Bring the family to celebrate the Easter season with an excursion through the Chehalis River Valley in covered and open-air cars. Each train ride will be followed by an Easter Egg Hunt. Kids can find candy-filled eggs hidden by the Easter Bunny. The egg hunt is divided by age groups from up to 3 years, 4-7 years and ages 8-12. Don't forget to bring a basket. Tickets are $15 and on sale online. Kids age two and under free for the ride and egg hunt.
Enjoying springtime in Lewis County is easy with so much Easter fun happening. Spend some time with your family and create new Easter traditions with one or more of these egg-citing events.