If your mouth starts watering at the sound of clams carbonara, clam chowder or beer-battered clams, then you need to head to the 2020 Razor Clam & Seafood Festival in Ocean Shores. On May 30-31, 2020 at the Ocean Shores Convention Center, the entire family can have a fun weekend full of activities, shopping and of course eating your fill of seafood!
In its 14th year, the Razor Clam & Seafood Festival has free admission and plenty of things for everyone in the family to do. Never been clamming? This is the perfect festival for you! There will be demonstrations and booths full of information on everything you need to know about this Pacific Northwest tradition: from equipment and finding the clams, to cleaning and cooking them. You can even get your license right across the street and then head to the beach to start digging! There will be digs both days, pending approval from the Washington State Department of Fish & Wildlife.
Digging works up a powerful appetite and you are in luck because the Razor Clam & Seafood Festival has plenty of seafood of all types to fill your belly! Look for razor clam steak, chowders, seafood gumbo, barbecued oysters, fish and chips, and more. If some in your party prefer turf to surf, there will also be pulled pork sandwiches, hamburgers, hot dogs and enough fair food to keep everyone happy. Local wine, beers and spirits will be available at the Festival Bar for those 21-years-old and over.
While you eat, enjoy live music by talented local entertainers including Diamond Ridge and The Working Class Heroes. Then, work off your meal by exploring over 40 booths with handmade crafts, fishing equipment, outdoor gear, cooking supplies and more. Watch cooking demonstrations from local chefs and clam experts and get your questions answered.
Your kids (and you!) can have fun on the giant purple slide and the infamous shark ride – will you stay on the longest? There will be lots of booths with other hands-on activities as well.
Are you a closet cook? Maybe you are an undiscovered Julia Childs? If so, be sure to enter the amateur chowder contest. A panel of local judges will try your best chowder and award cash prizes, plaques and more. Who knows, it might jump-start your next career! There will also be a professional chowder contest again this year. The public can purchase a chowder passport for three-ounce samples of each of the professional chowders. Like what you sampled? Buy a full bowl! Cash prizes and plaques will be awarded to professionals in first through third places, plus a People's Choice award.
Make it a Trip with a Stay at Quinault Beach Resort and Casino
Presenting sponsor Quinault Beach Resort and Casino is a great place to stay to make it a fun mini-vacation for the family. They have a free shuttle to the Razor Clam & Seafood Festival, so you don't have to fret about parking. On Friday night feast on their Land and Sea Buffet and then on Saturday indulge in their Steak and Shrimp Buffet, both have something everyone in the family will love!
After the Festival, kick back and relax at Quinault Beach Resort and Casino! Maybe treat yourself to a spa treatment or enjoy free entertainment in the Ocean Lounge with Stir Crazy.
Sweet Grass Hotel is also a great choice, with free breakfast vouchers each day and its within walking distance of the Razor Clam & Seafood Festival.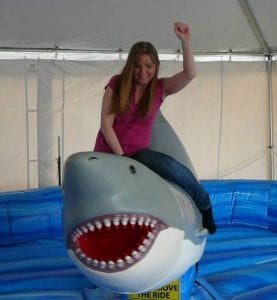 Whichever hotel you choose, make plans now to attend the family-friendly and exciting Razor Clam & Seafood Festival taking place May 30 from 10:00 a.m. to 8:00 p.m. and May 31 from 10:00 a.m. – 3:00 p.m. at the Ocean Shores Convention Center, 120 W Chance a La Mer NW. For more information, visit the Razor Clam & Seafood Festival website or Facebook page.
You'll be as happy as a clam if you do.
Sponsored