Entering Let's Play Something in Centralia is like walking into Santa's workshop. Colors, shapes and textures almost overwhelm the senses. "Kids come in and they gasp. It's so awesome," owner Toni Bennett says. "It makes me happy. This is my happy place."

The children of Toni and Adam Bennett – Grant age 17, Colin age 16, and Amanda 12 years old, grew up surrounded by toys. For the past four years, they help their parents run the family's toy store located at the Fairway Shopping Center.
For almost three years the business was in downtown Napavine where the kids could walk to the store after school and help out. "If Amanda saw a customer who needed help, she would drop her bag and go to work," Toni says.
Now that the store is in Centralia that's harder to do, but Amanda and her brothers still work in the store on weekends and during school breaks.
"She could barely see over the counter," Toni says of Amanda. "People wondered, 'Is she running the register?' But she does a great job and when we get new hires, she does most of the training. Trainees soon find out how knowledgeable she is. They're not intimidated by a child."
Sports are another competitor for the kid's time. Like her brothers, Amanda loves sports and is currently on three basketball teams, Napavine Middle School, AAU (Amateur Athletes Union) and a select team in Longview.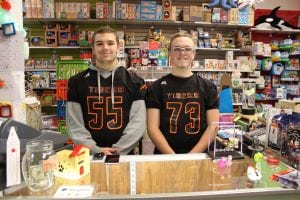 Grant and Colin are on Napavine High School's football team that recently went to the semi-finals. The coach gave both boys nicknames based on their parents' business. Grant's name is Toy Story and Colin, of course, is Toy Story 2. And neither of them seems to mind.
Four employees help man the store, but most of the time Toni runs the toy shop. "Small children," is the reason she gives for starting the business back in May of 2009, selling LEGO kits from a distributor.
Toni started by listing a box of LEGOs online. She wanted to distribute them directly, but the company said they needed a website for two years. She set up a website and two years later called LEGO back. "Where's your brick and mortar?" they asked, referring to a physical store.
They opened the store in Napavine and called LEGO back again. "We're not taking any new accounts now," was their answer. Every six months Toni would call them back with the question, "Are you ready now?"
As they were contemplating a move to another location, LEGO finally called and asked if they would like to be distributors. Toni said, "Yup." Now they had to figure out where to put it.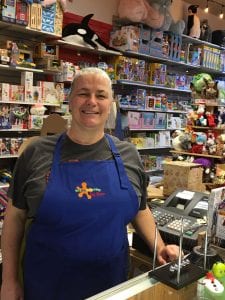 The move to the Fairway Shopping Center was scary. "Sales doubled and bills tripled," Toni says. "But we are narrowing the gap."
"If we hadn't started in Napavine I don't think we would have made it," Toni says. "We already had a following. We have a lot of return customers. They spread the word. We always ask people when they come in how they learned about us and it's always someone has told them – their mom, sister, friend or another teacher."
The K'Nex tower is the first thing to attract little visitors, but there is so much more to see at Let's Play Something. Stuffed animals, stocking stuffers, games, puzzles, scientific kits, books, teaching aids…The list goes on and on.
"I've been told I have a problem with games," Toni says. "Every time I get a new game, I get this look from everyone – where are we going to put it? We have 250+ games now."
She also loves science-based toys. "I like stuff that's engaging," she says. "You've got to think and do something with it." Robotics, crystal growing, making your own bubble gum or root beer, edible chemistry sets, dino digs, salt powered truck, CSI fingerprinting and making candy are just some examples.
New this year is a DoodleMatic kit. Using different markers with different functions, children from 6 to 16 can draw and animate pictures and turn them into games. Amanda spent her time at a trade show learning how to use it.
Every year Toni attends an autism conference where she displays all sorts of "fidgety" toys that help children with autism with their sensory overload. She didn't realize she had so much for children on the spectrum until she consulted a friend with a child experiencing autism. She just knew she liked educational toys.
One of the best surprises about Let's Play Something is the prices. "People expect us to be more expensive because we are a small family business," Toni says. "Even though it means a smaller margin. I know the big box companies are getting the items cheaper than I am, I still feel people want to shop small. They want to support small businesses and we price competitively so they can."
Prices are balanced by friendly customer service including free gift wrapping and consulting with customers to get the right gift no matter what the budget.
Let's Play Something
1714 S. Gold St.
Centralia
360-669-5982