Winlock students are growing in a whole new way – with a sprawling garden space at the high school. Winlock Community Garden was created by the newly formed Student Garden Club, Nature Nurture Farmacy, and dedicated community members.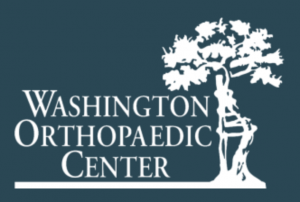 A teacher wanted to start a garden to provide students with healthy food after noticing kids eating poorly and arriving at school hungry after weekends. After that teacher transferred to a new school, Winlock alumna Dr. Alicia Spalding of Nature Nurture Farmacy took over.
"That's the mission of our nonprofit, to use food as medicine," says Spalding. "We believe in access to good food. It's things like this that make our mission happen. Working with kids is awesome. The hope is to educate them."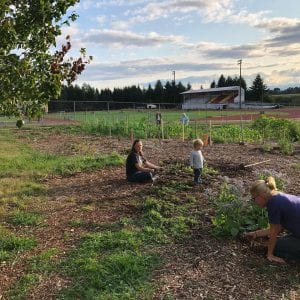 Spalding spent her Tuesday evenings this summer toiling with a mix of volunteers age 2 to 80. The first few weeks just a few people came, then a dozen. Once, there were 25 lending a hand. Recently, parents and siblings help while their students are at sports practices.
Students' interest grew along with the garden. After pulling carrots out of the ground, only one girl was brave enough to eat them. By the time she was done, all the kids were grabbing carrots to munch. "This is good peer pressure and the way we want it to be," says Spalding.
When beautiful heads of purple cauliflower were ready, all the children declared their distaste for it. So Spalding riced it with coconut oil sprinkled with salt and pepper. "They devoured it," she says. "I told them I don't like to eat things that don't taste good. They couldn't believe it was cauliflower."
While this summer's garden is a less formal space filled with herbs, flowers, and vegetables, Spalding has big plans to transition the garden this fall to a sustainable food forest with a central meeting location. The low maintenance plan includes easy access for all with raised beds and large pots. "We can use this as a show garden to share that anyone can grow food anywhere," she says. "Even in an apartment, you can do some version of this."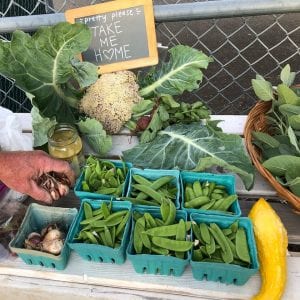 Raintree Nursery donated fruit trees, berry bushes, and roses. "The idea is this garden will look beautiful all year round," Spalding says. "There will be evergreens in the form of herb bushes, vines, and a berry maze. We want to make it exciting and fun for kids."
The design also includes row crops. Anything students don't use is shared through the Winlock Food Bank and Olequa-Winlock Senior Center. Lewis County Master Gardeners will share education programs on topics like canning and composting.
Come autumn, the plan is to incorporate programs at the school and offer space for teachers to use. "There is a benefit on every level – physical and mental – to have an outdoor learning environment," says Spalding. "Even if it doesn't inspire them to grow a garden, they will understand the effort that it takes to grow food."
Retired Napavine teacher Dorothy Vice shares Spalding's enthusiasm. "It's just so rewarding to see things growing," says Vice. "I think it's wonderful. Often we think of school as just reading, writing, and arithmetic but when you grow your own food, you become more practical. There's something about growing things. It gives you a good feeling and I think children pick up on that."
Community members drop off plants and produce they've grown, or they offer a hand. "It's really fun and it gets the community to the school," says Spalding. "I think that's the biggest thing; if we want this and the school to flourish, we need the community involved. That's why it's not just a school garden but a community-supported school garden."
For the garden to thrive, they need continued community support through donations, tools, and shared knowledge. Experienced community members and service groups are encouraged to contribute. "Come support us," says Spalding. "It's such an inspiration to the kids when people come out to show their support. It's building a lot of community."
One local veteran expressed how therapeutic volunteering in the garden is. "The mental and emotional benefit is really awesome for people," says Spalding. "Just getting people's hands in the dirt is so beneficial. It's those deeper things like connecting to the earth; this is how this garden will serve."
Winlock Community Garden is an example of what is accomplishable in a short amount of time when passionate people work together. It connects the community in many different ways while providing fresh produce. A vacant piece of land is now a place of learning, gathering, and good food.