DON'T MISS
On a clear Saturday afternoon, during Lewis County's annual ArTrails studio tour, Bethel Church in downtown Centralia was overflowing with activity. Recorded music emanating...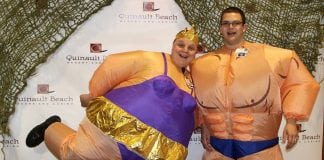 Step outside the ordinary with Quinault Beach Resort's annual Halloween Weekend Bash on October 27-31. With more than $21,000 in cash prizes and loads...
Everyday
Puppies and kittens and wildlife, oh my! Nestled in the woods on Alpha Road in Centralia, the Lewis County Animal Shelter has been providing services...
Featured Business
Charity Freuh didn't know much about natural foods when she started managing the section at Shop 'n Kart. "It was overwhelming at first," she...
From observers peering in the shop window at Book N Brush in Chehalis, all that's seen is the tidy, orderly shop with rows of...
Activities
On September 17, more than one hundred people gathered at the Chehalis Centralia Railroad and Museum to celebrate a very big birthday. There was...