DON'T MISS
Biting into a delicious burger is one of those classic summer moments. Throughout Lewis County, burger joints have long been filling our stomachs with...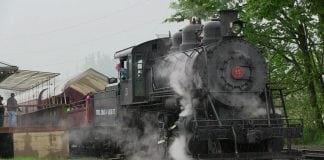 The Chehalis-Centralia Railroad & Museum is now open for their regular season that boasts weekends full of steam train fun. It's a unique experience...
Everyday
Taking advantage of the amount of acreage that often accompanies rural property in Lewis County, many homeowners plant and harvest their own vegetables, legumes,...
Featured Business
Located at 6969 Tyee Drive in Tumwater, the new Toyota of Olympia dealership has everything you could possibly dream of in a car dealership...
The first year of business for I-5 Chrysler Jeep Dodge Ram Fiat (I-5 Dodge) in Chehalis has been one of stellar growth. When the...
Activities
You'd be hard pressed to find a more scenic biking route than the Willapa Hills Trail. It's picturesque. It's stunning. And if you grew...