It's something most of us here in Lewis County haven't considered: the dangers of human trafficking and what to do if someone seems suspicious. But the team at Twin Transit knows the best way to protect is to be prepared.  
Twin Transit Operations Supervisor Lesley Jackson learned about Busing on the Lookout at an annual training. Some of what she discovered surprised her. "I learned how much of a problem it is in our country and just how common it is," she said. "It's not like the old stereotypes. It's everyday people. It's hiding in plain sight."
Jackson decided to share what she learned with her Twin Transit coworkers and get the team trained to spot human trafficking tactics. Now, thanks to her efforts, the entire Twin Transit staff is 100% Truckers Against Trafficking certified.
They're trained to notice when something isn't right and they know what to do, should they encounter a human trafficking victim. If a bus driver suspects there is an issue, they call local law enforcement and the Busing on the Lookout hotline. "It could be just a gut feeling," Jackson said. "We look for things like younger people with older counterparts who don't let them speak, or tattoos that say things like 'property of.' Or it could be a teenage girl who isn't in school, dressed for a nightclub and traveling with an older man."
Jackson hopes that Twin Transit's investment in this training will spark community engagement and inspire others to take a no-tolerance stance against human trafficking. "We're all trained and we are not going to tolerate it," she said. "Not in our community. We are going to respond to anything we see that is suspicious."
Why "Truckers" Against Trafficking? Because the organization recognizes that members of the trucking, bus and energy industries are invaluable in the fight against human trafficking – as the eyes and ears of our nation's highways.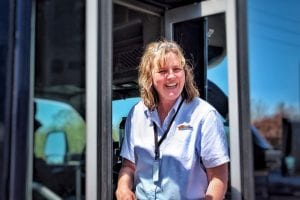 Jackson encourages others to visit TruckersAgainstTrafficking.org and take the time to learn more. People who see something concerning can call the Busing on the Lookout hotline at 1-888-3737-888.
All Twin Transit buses now have Busing on the Lookout signage prominently placed where victims can see them and self-report. Jackson also connected with Hope Alliance (formerly Human Response Network) to team up. "We have them as a local resource as well, if someone needs help," she said.
Living in Lewis County means a more rural life, but small communities need to be aware of the realities of human trafficking. "We are smack dab between Seattle and Portland and we are right on the freeway," Jackson said. This location heightens our chance of encountering human trafficking but "even if it's just passing through – if we can stop it, we will."
Sponsored