It's time to roar into another year and another decade! As 2019 ends and 2020 begins, we can't help but wonder if the next 100 years will be as changing as the last 100 were. Regardless of what's to come, December 31 is the perfect time to get out and have some fun with friends and family as we reflect on all that happened and look forward to all that's about to be. Here are some things to do on New Year's Eve in Centralia and surrounding areas. Check our event calendar for more coming events.

2019 New Year's Eve Celebration
December 31: 9:00 p.m.
McMenamins Olympic Club
112 N. Tower Avenue, Centralia
Head to McMenamins Olympic Club to ring in 2020! This New Year's Eve in Centralia get decked out and spend the night partying to live music by Sassparilla. Stay safe by staying the night with a special New Year's Eve Package that includes lodging for two with surprises, $50 for dining and drinks in the pub, admission to the party, sparkling wine toast at midnight and a $25 credit for breakfast New Year's Day in the pub. The cost is $205-215 a couple. Party only is $15 at the door.
Early New Year's Eve Party
December 31: 1:00 p.m. – 4:00 p.m.
Centralia Rollerdrome, 216 W. Maple Street
If you are looking for a kid-friendly New Year's Eve in Centralia, head to the Centralia Rollerdrome for an early celebration of the end of a decade! Ring in 2020 at this fun event that includes regular skate rental, hat, horn and lei for just $8 a person. At 3:00 p.m. where will be a confetti celebration to mark the New Year, allowing your kiddos plenty of time to get home and into bed.
New Year's Eve All-Nighter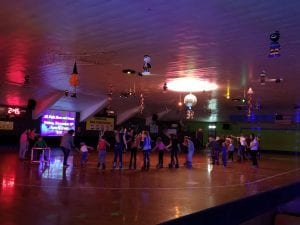 December 31: 7:00 p.m.
Centralia Rollerdrome, 216 W. Maple Street
Roll into 2020 at the Centralia Rollerdrome's New Year's Eve All-Nighter. This fun event will let you skate all night, from 7:00 p.m. December 31, 2019 until 7:00 a.m. January 1, 2020. $22 includes regular skates, a slice of pizza, small soda, hat, horn, lei, donut and juice. They are also having a special on New Year's Day, in case you are not a night owl. Skate from 1:00 p.m. – 5:00 p.m. on January 1 for just $2, which includes admission and rentals!
Backfire Band New Year's Eve
December 31: 9:00 p.m.
Lucky Eagle Casino, 12888 188th Avenue S.W., Rochester
If you are looking to rock out this New Year's Eve, head to Lucky Eagle Casino. There, you will be entertained by Backfire Band, a Lewis County-based band that plays country, classic rock, southern rock and a bit of blues for good measure. Backfire Band will be playing in the Main Street Bar for free. They will also have The Retros, Seattle's original New Wave tribute band, for a $10 admission. Drink specials and a balloon drop will help you celebrate! On the gaming floor, they will have cash drawings starting at 2:00 p.m. and will be celebrating the New Year at each time zone around the world. There will also be a DJ spinning tunes to keep the partying going from 8:00 p.m. to 2:00 a.m.
New Year's Eve is also a great time to get one last look at the amazing Christmas lights your neighbors have put up, so a drive around town in the early evening can be a great way to celebrate with your little ones before their bedtime. You can also make your own celebration by heading to any local restaurant and have a nice dinner out while supporting your neighbors. Just remember to check hours as some may close early on New Year's Eve.
Above all, have a safe, happy and prosperous New Year from all of us at LewisTalk!