Prostate cancer is the second leading cause of cancer death in men. Of the approximately 175,000 men diagnosed this year, around 31,000 of them will die. Nearly 80 percent of men will be diagnosed with a form of cancer such as prostate cancer by age 80. While prostate cancer is typically slow-moving, that's only the case if it's caught early.
In 2012, Centralia resident Arnie Guenther received news no one wants to get. He had prostate cancer. "I didn't have any symptoms," he says. "Like a lot of guys, I didn't go to the doctor very doggone often. So I didn't know until I had a PSA test, which is just a blood test, and came up with a pretty high score." After undergoing further tests and a biopsy, Guenther elected for robotic-assisted surgery.
As a member of Centralia Rotary since 1986, Guenther felt he needed to use his experience to help others facing the same road. "Rotary is all about giving back to your community," he says. "After my surgery, I thought I've got to do something to help out the next guy."
He got ahold of his Rotary Club and a member suggested doing an event focused on education. He reached out to Chris Thomas at Providence. "He was excited about it," says Guenther. "Our first one was in October 2013."
This year, Providence Health and Services of Southwest Washington in partnership with the Centralia Rotary Club invites men and women to a free community event Cancer Risks for Men or the Men in Your Life on Tuesday, October 1 from 6:00 to 8:00 p.m. at TransAlta Commons at Centralia College.
Learn about maintaining good health while aging, as well as cancer diagnosis and treatment. Clinicians from Providence Regional Cancer System and radiation partners, along with the Providence Medical Group and Providence Centralia Hospital will be on hand to present, as well as answer questions. Topics will include Urology, Medical Oncology, Radiation Oncology, and Robotic surgery.
Attendees can bring questions for doctors, nurses, physical therapists, advance care planners, registered dieticians and more. Light refreshments will be provided by Centralia Rotary Club. Register today for this free event online or call 360-330-8656.
With up to 275 people attending yearly over the last seven events, Providence and Centralia Rotary shared information to close to 1,000 people. "We've tried to get education to locals on something that is pretty devastating," Guenther says. "I think that's the important thing."
Guenther is thankful for the partnership with Providence to help share information about prostate cancer. "It's been a pretty good deal," he says. "I am proud to be part of it."
Prostate cancer, although a man's disease, impacts everyone in the family. Even if it doesn't affect a person personally, it's likely to touch someone they know. The best defense is knowledge and talking with a primary care provider about prevention.
With any cancer, patients need a support system while going through treatments. "There's so much information that you have to process," he says. "All of a sudden, you're left with what am I going to do? How do we deal with this? Not to mention telling your family that dad's got prostate cancer. There's so much information to digest and that's the part is really, really difficult and I wish I would've had some help with."
After the first men's wellness event when a handful of guys approached him, Guenther decided to use his experience to help others and started a support group. "When you talk to other people who have gone through this it gives you a little bit of okay, that's what it's all about and I am going to go through," he says. "Over the last seven years, I've talked to men around here who were newly diagnosed. That piece of talking to someone who has already gone through it is super important."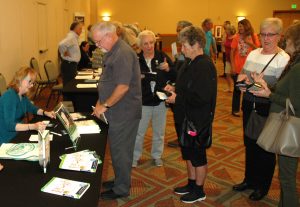 For the last five years, the SW Washington Prostate Cancer Support Group meets once a month on the fourth Thursday from 7:00 to 9:00 p.m. at Providence Centralia Hospital in the Mother Joseph Conference Room. Participation is free, and families and significant others are welcome to attend. "We are there to educate ourselves and support each other," says Guenther.
Prostate cancer diagnosis statistics show it's not just an old man's disease. "Men put stuff off," says Guenther. "Guys should get checked" Guenther's wife Cathy wants others to not be afraid to talk about it. "It has absolutely nothing to do with a guy's manhood," Guenther says. "Go get checked and follow-up."
Sponsored