Submitted by: Evergreen Playhouse Board of Directors
In 1959, Mattel's Barbie Doll was launched, Alaska and Hawaii became the 49th and 50th states of the Union, the last musical from powerhouse duo Rodgers and Hammerstein ("The Sound of Music") opened on Broadway, and in a little town in Washington State, the Evergreen Playhouse was born.
The Evergreen Playhouse was established the fall of that year by a group of area citizens with a strong commitment to the theatre arts and has since operated continuously since that time, presenting a variety of live theatre experiences to the community and providing many opportunities for people to share their talents on stage and off. Five-dollar bonds were sold to finance their first play, Sabrina Fair, and were redeemed, as promised, following the production.
At first, physical space to perform plays was donated to Evergreen Playhouse. The ballroom of the Lewis and Clark Hotel was the first "theatre" setting. Other locations were borrowed or rented until 1972 when the Playhouse moved into the space at 226 West Center Street, their present location.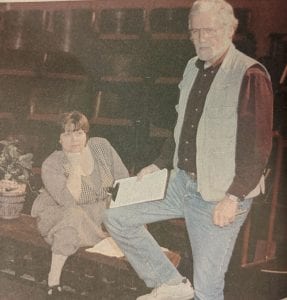 On Saturday, September 21, the Evergreen Playhouse is celebrating it's 60th Anniversary. All events are free and open to the public, starting at 11:00 a.m. This family-friendly day will have something for everyone to enjoy – activities for the kids, live bands including Rattlin' Bog and Lewis County Pickers, an improv and comedy murder mystery, and a revue from the past, including excerpts from shows from each of the last six decades.
There will also be a viewing of the movie "Mamma Mia!" in honor of their closing production scheduled for June 2020. In addition to the free events, there will be a beer garden by NW Beerwerks, food vendors such as Hot Dog Adventure, Tacos El Ray, and McNashton's Shave Ice, and a henna tattoo artist available.
The entire day will be capped with a 60th Anniversary Gala, where patrons young and old can mingle with the actors, artists, and crew of the EP's past and future, share stories and memories, and then see a sneak preview of their 60th Season. Celebrate the history of Lewis County's oldest live theater company – still running strong after six decades of creativity!
Where: 226 West Center Street, Centralia
When: September 21, 11:00 a.m. to 8:00 p.m.
Schedule: evergreenplayhouse.com/celebration
#ep60party