Kelly Young knows a thing or two about throwing a party. She's the Catering Manager at Bayview Catering and has been working with the Stormans organization for the past 26 years. "I want your event to be memorable and successful," Kelly said, adding she really loves organizing the many elements of putting together a special occasion.
"I like to meet the customer's expectations," explained Kelly, who doesn't want anyone to have unwelcome surprises or random guessing.
Planning a party? Here's Kelly's short list of important tasks:
Reserve Your Venue
If it's your own backyard or garden, you'll have the flexibility of whatever date you want. Thurston County has numerous but not unlimited places. Kelly noted that many places can only accommodate a single event per day and popular venues are booked well into the future. The good news about Bayview Catering is that they can do several parties on a single date. Reserve your space as soon as possible.
Figure out Your Rental Needs
Tables, chairs, tents and dishes are the most common items people are either short of or don't have on hand. Celebrations partners with Bayview Catering and can help you with these kinds of things. You'll need to know how many people are coming, along with your date and place.
Now You Get to Think About Food!
Your menu choices are virtually unlimited. A theme can direct the plans. Do you imagine a casual picnic-style barbeque or will this be a formal sit-down dinner? When you know how many people you want to feed and have decided your food budget, it's time to start making actual choices. It may be simply a beautiful cake with coffee and tea. More extravagant parties can start with tasty appetizers and lead to an elegant salmon bake – cake to follow. And there's everything in between.
The popularity of Pinterest and other social media have expanded people's ideas for party food, party decorations and what is even possible. Bayview recently catered an open house at a local business with a fabulous grazing buffet. The entire table was a decoration with every nook and cranny adorned with bites of cheeses, crackers, cut vegetables and fruit, and more. "We do like to decorate the buffet," said Kelly. It was a feast for the eyes and satisfying to the stomachs.
Let Bayview Do the Rest
In our culture, when people gather for weddings, parties, anniversaries, company picnics and reunions, we like to incorporate food. Using a caterer is an enormous help and allows the party givers to direct more attention to the purpose of the event, which is usually connecting with family and friends. Cooking is done in the Bayview kitchens unless it's an on-site barbeque. Everything is specially wrapped for delivery. Chafing dishes are set up to keep food warm.
Bayview will provide the level of staffing that suits your needs. Some people will pick up the food at the store and then do their own setup. Others want the food and serving dishes delivered. The Bayview team is happy to accommodate either option. You can bring everything back to the store when the party is over. Otherwise, you can also leave the clean up to Bayview, while enjoying one last cup of coffee instead.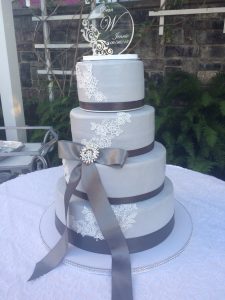 Another consideration is to arrange Bayview staff to be on-site during your event.
These helpers will refresh the food, pick up used dishes and ultimately do the full clean up. Bartenders and cake cutters are also available. These options get more attractive when you finally reach the big day and all you really want to do is be present for the festivities, not wash dirty plates.
If you have an event in mind, it's a good idea to head down to Bayview and spend a little time in the deli where there are lots of interesting salads and side dishes. Any of these are possible for your event. If you have a recipe of your own, you can talk with Kelly to see how it might be possible to create a version of it for your special party. These days, food choices tend to be fresher and lighter.
If you also want to have dessert such as a special cake, you can head up the hill to Ralph's Thriftway to stop in at the bakery to order the cake of your dreams. Rhonda Nickle, manager of the bakery, the deli and the Subway is a baker in her own right. She's assisted by Joy, whose decorating abilities will wow you. "She's patient and can just do it!" Rhonda explained of Joy's talents to turn people's concepts into amazing cakes.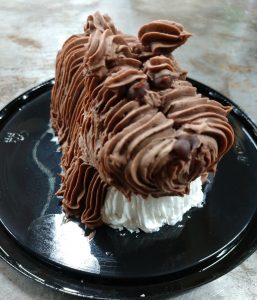 Bayview's catering specialists will help customize your menu to fit your budget and make arrangements for any dietary considerations. Bring your dreams, ideas and taste buds and let the Bayview catering group build your perfect party.
Bayview Catering is located inside Bayview Thriftway in downtown Olympia
516 West Fourth Avenue
360-357-8016
planner@bayviwcatering.com
You can also fill out an online form.