Submitted by: Centralia Christian School
High School students at Centralia Christian School (CCS) left their pre-fall academic planning meeting with one assignment:  research an elective they want to take next year. "The idea," said Principal Ann Stout, "is to get the kids involved in their own education."
The high school program, which piloted in the 2017-2018 school year, offers a 9th and 10th grade program focused on college readiness and community service and is geared toward preparing kids for Running Start or re-entry into the public school systems.
"It fulfills a need for not only a solid Christian education, but also a smaller class size and personal interaction with teachers and administrators," said Laura Price, grandmother of one of the current CCS high school students. "Really, it's just a positive influence."
The program, which offers three days of in-class instruction to two days of at-home online learning, provides students with the opportunity to take a hands-on approach to their education.  Students are encouraged to pick electives that fit their interests and to take ownership of their schooling, involvement and service.
Each year, CCS students partner with Love INC of Lewis County to provide assistance to those in need by running a fundraising banquet.  Previous students have also volunteered as landscapers and lawn maintenance workers, clearing debris and auctioning their services at the school's annual auction while those interested in the arts have hosted a school-wide art club and taught art classes to younger students.
"In the future," said Principal Stout, "I hope we can have students help more in the community." Her ideas include asking to see if the students want to run a food drive over the holiday season or have an interest in helping the Child Evangelism Fellowship of Lewis County at the Southwest Washington Fair in August, though she would love to see the high school partner with more local businesses, churches and nonprofits as well. "The sky is the limit," Stout said, in terms of volunteering. "I know our preschool teacher, Joy Phillips, is hoping some of our students will want to help out in the preschool program."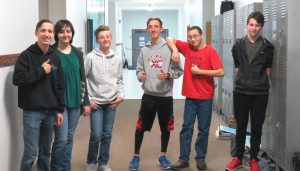 Prices' granddaughter, who has been attending CCS since 6th grade, is just one of eight students currently enrolled in the program. "My granddaughter lives with me," said Price, "and when she finished 8th grade I knew it would be best for her to continue here. Being at CCS has been life-changing." Now entering 9th grade, her granddaughter and her granddaughter's classmates have been preparing for the start of school in the fall by working directly with Principal Stout and the CCS teachers to plan service opportunities, their schedules and leadership roles in the school.
"It's a fantastic system," said CCS Development Officer, Hillary Fazzari. "The school partners with a State-approved online learning provider to offer 150+ electives, which means there's a great flexibility there that I think is important. We believe students who are actively engaged and have a say in the activities and the classes they take will be better equipped to lead, grow and learn both in school and after graduation."