As Lewis County's most recognizable voice, weatherman Dean Dahlin has provided local weather forecasts at KELA for the last 35 years. He first supplied the radio station with historical weather records, then started doing his forecasts on-air.
His interest in weather began when he was a second-grader at Cascade Elementary when he started checking out every weather-related book the library had.
Snow is what first sparked Dahlin's interest in weather. "I loved the snow and always wondered when it was going to snow," he says. "But it seemed like – at the time – that when they put out a forecast for snow, it was already snowing."
His junior year in high school, he met Ray Ramsey at KOMO and went to the weather service. "That was pretty neat because it was the time satellite pictures were just coming into existence," he says. Ray mailed Dahlin Polaroid pictures of satellite images.
Our region provides unique challenges when it comes to predicting the weather.  "A large part of my forecasting is off the Canadian maps," says Dahlin. "There are so many microclimates around the state. This is the hardest area basically in the United States to try to forecast."
Dahlin's scariest weather-related moment was when he was in the sixth grade. It was during the 1962 Columbus Day windstorm. "It got me even more interested in the weather," he says. "It blew so hard it literally shook the house."
Local farmers often call Dahlin at home when their hay gets wet. During the 1990 flood, Dahlin's phone was ringing off the hook. He recalls one man who had just remodeled his house before it flooded. "He was literally crying, saying, 'What am I going to do?'" remembers Dahlin. "Nobody told me that besides being a weathercaster, I would be a counselor. He just needed somebody to talk too."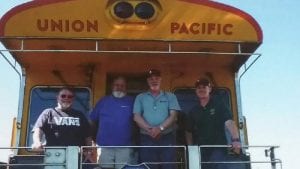 Floods hit the area again in 1996 and 2007. "Those were the most challenging in my career," Dahlin says.
In addition to weather memories, he could write a book on his on-air moments. He would often call his forecasts in from home. While he was about to go live one day, he started boiling water for dinner. In the middle of the forecast, it started boiling over so Dahlin said, "Stand by."
The disc jockey said, "Where did he go?"
Dahlin returned to the phone and filled the DJ in.
After a few mornings of the microwave dinging during his forecast, the DJ said, "What's for dinner now?"
Another time, a woman called in March and asked, "What is it going to look like on August 26 at 2:00?" She was trying to plan a wedding. Dahlin replied, "You got a quarter? Flip it."
"This is not a laughing matter," she said in response.
Dahlin let her know that in his 30 years of records, August 26 had been dry, so the odds were in her favor. "I found out you can't always think people are kidding in this profession," he laughs.
While working for Union Pacific as a locomotive engineer, Dahlin's other profession, he became involved with Operation Lifesaver, educating young people about the dangers of railroad tracks and trains.
While giving a school presentation to a second-grade class, he looked out the window and said, "I thought Dean Dahlin said it was going to be sunny today?"
A girl shook her head and said, "My mom listens to him he's never right."
Dahlin asked, "Do you think if you and I helped him, we could do a better job?"
The girl replied, "Yeah, but I don't know who he is."
So Dahlin introduced himself.
The girl called him on Christmas Eve to wish him a merry Christmas. Dahlin spoke with her mother and they got a laugh out of the interaction.
Dahlin often recorded his forecasts on tape to be played later. He made a forecast one day predicting it would be cloudy and drizzly. He later woke up fifteen minutes before the broadcast to two inches of snow. "I called Steven B at the station, saying 'Jerk those tapes out, we have snow,'" Steven says. "It's not doing anything here."
He was later called out on air by Jim Cook who said, "If you tune in now, Dean is spot-on, but earlier he wasn't even close."
Dahlin says people who know that story will still stop him and say, "Jerk those tapes!"
One year he shared an April Fools forecast of snow saying, "I don't believe it. There is an arctic front up North that should be here at about noon in the Twin Cities," followed by "April fools!"
Some people missed that part and one woman called her sister up North to see how bad it was. Her reply was, "I don't know what Dean is smoking, but it's nice and sunny up here."
The woman called the radio station wanting to be reimbursed for her long-distance phone call.
With his various careers, Dahlin has made many contributions to Lewis County. He even had a song written about him that sold 3,000 copies and was in the Top 40 list at Sight and Sound for a time. With his trademark "Good Morning Folks," he equips our area to face every day, no matter the weather. "Somebody asked me how long I'm going to do this," says Dahlin. "I replied, 'When it quits being fun.'"