How much do you know about people with developmental disabilities in Lewis County? What kinds of things do they like to do, what activities are there for them, what kinds of things are they involved with? If you talk to any of the members of People First, a non-profit self-advocacy organization for people with developmental disabilities, they will tell you. Quite clearly.

At a recent meeting of the local chapter of People First, the lively group was more than happy to share about who they are and what they do.
Their main goals are to be active in the community, informing and educating others about themselves. Members had just returned from the annual Southwest Regional Mini-Conference held in Tacoma at Stadium High School. They learned how to advocate for themselves and how to be more independent. They talked about being labeled and what that means and how that feels. There they learned how to define what they want in life, what their goals are. Known as "person-centered planning," members learn how to determine what they want, not have it decided for them by others. They learn and talk about their barriers, strengths, support system, fears, and how to make their goals happen.
Members also learn how to advocate at the state level. They meet with other People First chapters (there are 20 other chapters) at the state Capitol and meet with their legislators. They learn how to vote on the policies that affect them.
People First is a service organization and are even members of the Centralia-Chehalis Chamber of Commerce. The group organizes and holds four fundraisers every year, which include a spaghetti feed, pie sale and a raffle. The raffle funds go to the state office to help support operating costs including the statewide convention, a very popular activity.
Steven Pharris attended his first state convention last year and smiled widely when asked about it. "My favorite part was all the learning we did," he says. Classes included self-advocacy, safety and building relationships.
The final fundraiser is manning a rest stop on a weekend. It's another great opportunity to educate others. "We had a couple of truckers stop by and after they learned about who we are and what we do, they went back to their trucks and got donations."
Advisors Mike and Paula Wind are very excited about the work of the group. "Our chapter is very self-reliant. They rarely need our help," explains Mike. "They trust us to take them in the right direction and to keep them away from harm."
"They're so dedicated about coming to and participating in things that it's hard not to support a group that is so committed and so motivated," says Paula. As an example, she asked the group what they wanted to do after an upcoming bowling excursion. "People First meeting, then the dance," they all chimed in excitedly. "That's a lot for one day, but they love being active," says Paula.
Another way the group is active is through their community work. They took cookies to the Lewis County Sheriff's Office, Centralia Police Department and Chehalis Police Department. They wanted to show their appreciation of the officers as well as get to know the officers better. "The smiles on the officers' faces were worth 1,000 words," beams Mike. "It also helps to get to know each other in case of a need to call 911."
It also helps the public service officers to be more aware of people with disabilities in the community, the majority of whom live independently, use public transportation and are working. "They're contributing citizens," explains Paula.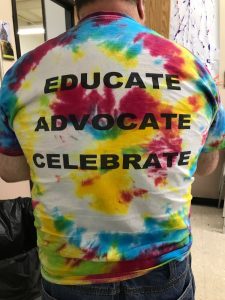 The members are very clear about the impact of the group on their lives. Cody Wells says it helped him learn self-determination and how to speak up for himself. "I go to City Council meetings and speak up," he says. "I talk about our mission and how to include us. If I'm out and see non-wheelchair accessible areas, I will call it in. We have to let people know more about us. And Lewis County respects the fact that we're trying to make them aware that we're here, too."
Other comments from members about People First include:
"It gives us a place to go."
"It allowed us to meet more people and friends when we moved here."
"We're a team, we're serious."
"Self-determination helps us to prove people wrong."
"We just have fun."
"Everyone is welcome."
"I love coming to People First."
"We just want to be equal in the community."
People First is for ages 18 and up. They meet the third Saturday of the month upstairs in the Yard Birds building (2100 N. National Avenue, Chehalis), room 204. Call 360-748-6789 for more information.