When you go to a doctor, you hope they are empathetic to you and what you are going through. Empathy comes from experience, from knowing what something is truly like. So if you are in need of something like shoulder surgery, rest assured Washington Orthopaedic Center's new orthopedic surgeon and sports medicine doctor, Dr. Mark Morishige, is both experienced and empathetic – having gone through four shoulder surgeries himself.
"I got myself hurt a lot," he laughs. Dr. Morishige participated in gymnastics for almost 20 years and was also a diver. "Rings are hard on the shoulders," he explains, "and I made mistakes."
Dr. Morishige credits his doctors for where he is now. "I had a good team of doctors in L.A. When I started college, they really encouraged me to go into this field." So he did, and with no regrets. "I really enjoy pushing the limits to advance new technology."
Dr. Morishige's work has led to interesting opportunities. He got to travel to Russia with a hockey team and worked with Cirque du Soleil performers to take care of their injuries. He is also a consultant for various companies. "I get to do a lot of cool things," he says with a smile. "Plus all patients benefit from the skills I use and learn through these experiences."
He also gets the opportunity to teach at the Arthroscopy Association of North America, an international group of orthopaedic surgeons who are "committed to advancing the field of minimally invasive orthopaedic surgery to improve patient outcomes." He gets to collaborate with other instructors and provide trainings to the group's members. He enjoys the teaching. "When we teach, we can learn quite a bit, too," he says. The meetings and sessions allow doctors to provide better service for their patients as they learn about new technologies and innovative techniques. The group meets four times a year at a top-notch facility in Chicago. Members come from all over the world for training in the latest procedures. "At our last class, we had doctors from Africa and Mexico. It was very interesting. It makes such a big difference for them to see new techniques that they aren't exposed to in their home countries."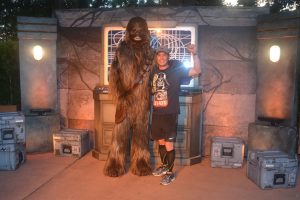 So how did Dr. Morishige wind up in the Pacific Northwest? He says that he kept moving east from California during his training, attending the Pritzker School of Medicine at the University of Chicago, completing residency at the University of Kansas in Wichita, and fellowships in arthroscopy and sports medicine at the Mississippi Sports Medicine and Orthopaedic Center and Tulane Institute for Sports Medicine.  
He went about as far east and south as you can go – Florida. Being single and childless, he was free to move around, but wanted to be back closer to his family on the West Coast. He likes to spend a lot of time outdoors, doing activities such as snowboarding and climbing. "I really like the activities here, and it's not as hot and humid as Florida," he reports. But when asked if the rain is driving him crazy yet, since he's only been here since March, he just laughs and agrees, "It has rained a lot."
What does he hope to bring to Washington Orthopaedic patients?
"I want to provide newer techniques and procedures, like shoulder arthroplasty," he explains. Dr. Morishige likes to work on complex revision cases where other treatment has failed. "Shoulder replacements are a relatively new procedure that provide enormous benefit for older patients. They were much more common in Florida, you really don't see much of them being performed here. I hope to change that."
Another procedure he performs is the reverse total shoulder. "You basically put the socket where the ball was and put the ball where the socket was." While sounding bizarre, he reports that it is a great solution for people who have had long-term rotator cuff problems. "It's made a huge different in a lot of people's lives," he says.
Dr. Morishige will also be performing arthroscopic surgery on other joints like hips, wrists and knees. But he will also be working on prevention with patients. "I really want to preserve the joint before it needs a replacement," he explains. "There are so many new things to help, biologics are making a big different to help people heal better and faster. Huge improvements are being made every day in the field of joint care. It's very exciting to be a part of."
He already enjoys working at Washington Orthopaedic Center. "They spend time with each patient to make sure they understand their course of treatment. They make sure they are comfortable with everything before proceeding. I like the idea of being in a good community and part of a practice that does good work and has very strong patient care."
Washington Orthopaedic Center's main branch is located at 1900 Cooks Hill Road in Centralia and they will have an additional office located at 150 Dennis Street SW, Suite B in Olympia beginning in June. For more information, visit their website or give them a call at 800-342-0205.
Sponsored