Damon Thomas slowly pushed himself off the mat, his face void of emotion. As he turned his attention back toward his coaches, the W.F. West senior let out a subtle, disappointed sigh.
Of all the matches that took place at this year's Mat Classic, this one had the most excitement, the most drama, the most intensity and unfortunately for Thomas, it also featured the most heartbreak.
Thomas' dream of capturing a state wrestling championship fell one escape short as he lost during an ultimate tiebreaker period to Selah's Carlos Lopez in the Class 2A 138-pound finals at the Tacoma Dome on February 18.
Thomas' showing was one of five incredible performances by the Bearcats as five senior wrestlers each collected top 3 finishes, including Hunter Arredondo, who saw his season end in similar fashion as he lost in overtime to Tumwater's Cy Hicks in the 285-pound finals.
The efforts by the W.F. West athletes helped the team finish fourth overall in the team standings with 110 points. Toppenish won its second consecutive state championship with 157 points, while Orting (137.5) and White River (112.5) placed second and third, respectively.
The fourth-place trophy marks the highest finish for a Bearcats squad since 2010 when they finished second and the 12th overall team placing ever. Both Thomas and Arredondo also finished as runner-ups in their division last year.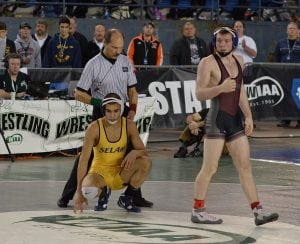 Thomas, who was edged 12-11 in last year's 138-pound finals, dueled with Lopez, who won the 120-pound crown two years ago as a sophomore, to a 2-2 tie after three periods.
A scoreless 1-minute sudden victory period was flowed by tiebreaker periods where each wrestler registered an escape with Thomas' coming in the final second which caused the crowd to burst into applauses and send the athletes into the 30-second ultimate tiebreaker.
Lopez, who was awarded his choice of positions by virtue of scoring the first points in regulation, selected top and was able to keep Thomas under control for the full 30 seconds, leading to his second state championship.
Despite the disappointing end, Thomas put on a show during the two-day tournament. Trailing Alexei Rubio of Toppenish, 7-3, in the third period of the quarterfinals, Thomas impressively rallied and went on to post a gutsy 9-8 victory.
"It helped me open my eyes. I just needed to go out there and wrestle and never stop," Thomas said about his quarterfinal triumph. "When I was down going into the third round I just told myself I have to get something or my chance at the state title was gone. That was running through my head."
Thomas advanced to the finals by pinning Cheney's Zack Nguyen in the semifinals (2:2).
Arredondo looked razor sharp in advancing to his second straight finals. He pinned his first two opponents before besting Orting's Kenny Marll, 7-0, in the semifinals to set up a showdown with Hicks.
Arredondo defeated Hicks, 3-1, at the regional championships the previous week and appeared headed toward a similar score midway through the 1-minute overtime period as he had his opponent teetering on the brink of a takedown.
Hicks, a junior who finished third last year in the division, was able to shift his weight, leading to a takedown of his own and the state championship.
Arredondo's back-to-back second-place finishes puts him in some extremely rare company as he became only the second Bearcats wrestler to register multiple top 5 finishes in the heavyweight division.
Fittingly, he joins his father, Tony, who finished fourth in 1988, first in 1989 and second in the heavyweight division during his senior season at W.F. West in 1990, in the school record book.
The Bearcats also received third-place finishes from seniors Michael Anderson (152 pounds), Brenden Spahr (182) and Brayden Bostwick (220).
Anderson completes his high school wrestling career as a four-time state placer. He also finished third last year at 152, fourth in 132 as a sophomore and eighth at 126 as a freshman. He joins Andrew White (2009-12) as the program's only four-time state placers.
Centralia junior Mykka McAllister advanced to the semifinals in the 120-pound division before claiming fourth place, while teammate Sidnee Arcury was the fifth-place finisher in the girls; 145-pound bracket.