The Pacific Northwest is home to cutting-edge science, myth, folklore and research on the topics of aliens and the unexplained. From February 23-25, Quinault Beach Resort and Casino will host the ever-popular annual UFO/Paranormal Summit for visitors of every shape and size.
Whether your research or interests focus on little green men or worlds beyond the stars, the summit has something for everyone. Beginners, believers, survivors and skeptics are always welcome.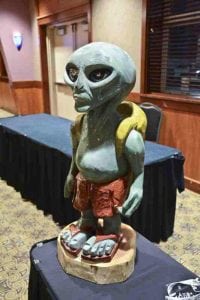 Event founder Johnny Manson continues to shape and guide the summit's schedule according to requests and fan favorite elements. This year he introduced private workshops with three of the weekend's speakers. These are limited to only 15 participants per panel and filling up quickly.
"This is the first time we have offered workshops, but at the request of many, we decided to offer them on Thursday," says Manson. Sessions relate to current research, evidence or presentation. "The three hosts are Alien Hunter Darrel Sims, MUFON State Director James Clarkson and retired naval officer Howard Batie. Guests who opt for the workshops will get to experience all three and includes admission into Friday and Saturday," explains Manson.
On Friday, February 24, guests can participate in the ever-popular Meet and Greet and Witness Town Hall. From 6:00 to 10:00 p.m., Manson invites guests to "mingle with the researchers and listen to experiencers share their story. We will also have Aleta Debee and psychic JoAnne Clarkson giving talks."
Saturday, February 25, consists of "a marathon of presentations" by experts and researchers in the field. From 9:00 a.m. until a question and answer panel starting at 4:50 p.m., the day is full of lectures, evidence, theories and information.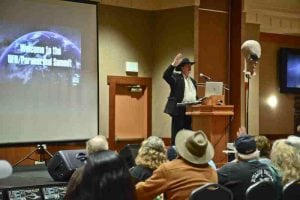 Tickets are available online or at the door and range from $35 for Friday and Saturday admission plus a commemorative keychain and T-shirt, to a $379 weekend package that includes two Friday and Saturday passes, two T-shirts, and a two-night room stay at the Quinault Beach Resort. To book the package, simply use the code UFO when calling 888-461-2214 or reserving through the Quinault Beach website.
Vendor space is also available in limited quantities. Check the event's page for details and to reserve a table.
Two hours from Centralia, Quinault Beach Resort is located at 78 State Route 115 in Ocean Shores. While visiting the Resort, enjoy their All You Can Eat Crab, Sizzling Progressive Payouts, ocean view rooms and luxurious on-site spa. Who knows, you may get lucky and win enough on the gaming floor to pay for next year's UFO/Paranormal Summit!
Want to read up on the speakers, invite friends or see this year's full line-up? Follow them on Facebook, YouTube or their email newsletter. Submit questions through the website or by calling 800-896-9965.
Studies show that more than 65 million Americans believe aliens landed in Roswell, New Mexico, in 1947. With a long and varied history in movies, books and television, theories about our interstellar cousins are as varied as stars in the sky…and just as enjoyable to study. Give yourself a weekend getaway to explore the unknown thanks to Quinault Beach Resort and Casino and the UFO/Paranormal Summit.
Sponsored