The Port of Centralia has joined the Olympia Master Builders, Port of Chehalis and the Industrial Park at TransAlta in a project that reviews the permitting process at the City of Centralia, City of Chehalis and Lewis County. The three agencies are responsible for issuing permits within their boundaries; however, each have different requirements and processes that can lead to confusion and frustration to consumers. The review project's goal is to identify weaknesses and to recommend improvements to help streamline the processes for end users obtaining necessary permits for local economic growth.
"We are seeking input from community realtors, lenders, consultants, contractors and affected agency representatives," said Port of Centralia Executive Director Kyle Heaton. "We are hoping also to hear the experiences directly from consumers that have recently obtained single-family residence permits from each of the agencies. Basically, we are taking an across-the-board, in-depth look at the permitting processes and asking: What is done well? What steps are unnecessarily cumbersome? What can we do better to ease the process? Our review project is not adversarial to the agencies themselves; it is to help consumers know what to expect when they want to bring their family and their business to our community and to make the process as pain-free as possible to help them reach their goals. By doing so, our community will benefit through the increased tax base and the additional jobs for our local workforce."
The external permit process review serves as the third "check-up" on the procedural health of local agencies in Lewis County. Clarity Consulting Partners, the project's leading consultant, was brought in for the previous reviews in 2007 and 2009 as well.
Together, the project partners form a steering committee whose guiding principles stem from the desire to be proactive in community growth, to partner with local jurisdictions for both inside and outside perspectives, to gather measurable data for increased process consistency, and to increase awareness of how permitting processes impact the local economy. The permit review will cost $30,000 to be split among the five entities.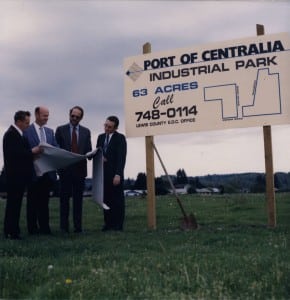 Technical advisory groups, assembled from industry members, will provide their own input and develop a survey for permit application customers. The customer survey is expected to be completed September 30, 2016.
Data collected from the focus groups, agency employees, and customer survey, along with a review of all forms and information provided during the permitting processes, will be compiled and compared against the 2009 study. Clarity Consulting Partners intends to release the final report, along with its findings and recommendations for improvements, in the middle of October.
Have you recently gone through the permitting process in the Centralia, Chehalis or Lewis County? You can help! Please visit https://www.surveymonkey.com/r/PERMITPROJECT to share your experience.