Makayla Erickson and three of her Centralia High School cross country teammates have circled the football field for a second time. They jog in single file formation with Makayla leading the charge.
It's a relaxed pace as the girls attempt to loosen up prior to running at the Capital Invite cross country meet. The group looks serious, dialed in and focused on the task at hand.
Then, all of sudden, the Isley Brothers' "Shout" kicks in over the loud speakers. The mood among the Tiger runners shifts drastically. They maintain their trot, but now Makayla has infused some dance moves combined with some light karaoke into the warm-up.
It's not long before everyone else joins in. The makeshift dance party continues through stretching and right up to the starting line as Taylor Swift's "Shake It Off" hits the airwaves.
"That's a big key to cross country, being relaxed and having fun," said Centralia girls' cross country coach Steve Creel. "It can be stressful, especially as you get to the end of the season with the bigger meets. You need to have that relationship with each other, and having fun is key to having a great team."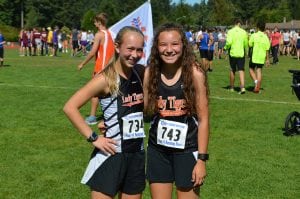 The Tigers clearly have the fun part down, but this group is equally talented leading Creel and his squad to have high hopes for this year's season. Makayla, along with teammate Magdalena Wood-Richardson, a fellow sophomore, are two very big reasons for the lofty expectations.
Both competed at the 2A state meet last year as freshmen and have spearheaded a big youth movement among the program.
"I think they have a lot of potential. I think they will do well this season, possibly challenge for a league championship. We will have to see how the other teams are," Creel said. "I think next year or the year after they could be a state team. You need numbers, but you also need some solid kids. You need that competition within the team so they are pushing each other. You need someone to set that bar."
Makayla has assumed that role in just her second year with the program, finishing fourth at the 2A Evergreen Conference championships and 12th at the district meet before heading to state.
"It's just nice to have someone you can works towards," said Wood-Richardson, who finished sixth at the 2015 EvCo championships. "And having them on your team is even better because you can work towards that at practice. I've never beat her though. I hope someday I do, but haven't yet."
True, Wood-Richardson has yet to catch her teammate, but she really only has herself to blame for Makayla's speedy times as they are a direct result of Wood-Richardson nipping at her heels whenever they run.
"I don't necessarily like it," Makayla said about the dueling sophomores, "but I need it. Some days you don't feel like running, but she's always there to make me faster."
Once on the considerably light side, the Tigers' roster is on the upswing this season with 13 total runners.
"Which is really nice because we only had a couple runners last year on the girls' side," Makayla said.
Creel credits the higher turnout largely to one factor, the Centralia Middle School program, which Lynnae Erickson, Makayla's mother, serves as head coach.
"I can't remember the last time we had this many girls out for cross country. This is very unusual for us," Creel said. "The big reason is because of the middle school program. Lynnae is like a kid magnet. She draws kids in and she has fun with them and it just kind of feeds into my program."
While most are introduced to the sport at middle school, Makayla actually got an even earlier start with her cross country career.
"She started in fifth grade. I was coaching seventh graders, and she would run with the seventh and eighth graders," said Lynnae, who ran at Whitworth University. "It's in the genes a little bit, but she's better than me. She's a beat. She has speed. Her father has speed. I don't have it, but she's got it. I am nothing but slow. I can do marathons. I'm just not fast. She has both."
Makayla crossed the wire in 16 minutes, 30.1 seconds at the Capital Invite, a 2.23-mile event that annually kicks off the new high school season for most local programs.
"Usually, I am nervous before the start of a meet. I get way nervous the night before, but this time I wasn't," Makayla said. "I didn't get nervous today until I got to the starting line."
Once the race started it was business as usual for Makayla as her running time was 27 seconds faster than last year's mark.
She wasn't alone in her improvement. Wood-Richardson finished the race in 16:37.9 – a 17-second improvement over last year – while Ruth Hopkins, one of seven Centralia sophomores to participate at the meet, posted a time of 16:59.70.
The Tigers also had four freshmen, senior Megan Holmgren and junior Tate-Madison Bell compete.
Last year marked the first time since 2001 Centralia had two freshmen run at the state meet. Makayla and Wood-Richardson both don't anticipate another 14-year drought for the Tigers.
"That's the goal this year, make it to state as a team," Wood-Richardson said. "This team really pushes each other and is very supportive. I think if we work hard enough we can do it."