Sometimes when you're not sure where life is going to lead you or what you are going to do, fate steps in and helps you. And that's what happened to Chris Hoel. Thirty-two-years-old and injured, he knew he needed to change careers. He had been in landscaping and lawn care since high school. He loved it. He loved being outdoors; he loved seeing properties in need of care, and then being the one to make those properties look good again. "It's a good feeling to see it look great and know that you're the one who did it," Hoel says.
While running his landscaping business, Hoel also worked at Home Depot in Chehalis for nine years. He was able to work 40 hours a week with benefits during the slow winter season for landscaping. When things picked up in the spring and summer, he still worked there two days a week.
Then he injured his back in an auto accident. After a while, he finally had to admit to himself that he could no longer do the physical work of landscaping. You can see the sadness and regret on his face as he talks about having to make the decision to stop what had been his life's work, something he had truly enjoyed. But that's when fate stepped in to help him.
Hoel had been a customer at The Power Shop, which sells outdoor power equipment and services, for many years, bringing his landscaping equipment in for repair as well as buying new products. "They're really good people," he says.
They had an opening for a parts person and the owner approached him about a position with the company, and he was quickly hired.
Four months into the new job, the transition has been quite easy for him. "I do have to learn how each piece individually works," he explains, "but we sold a lot of this equipment at Home Depot too, so I know a lot of it pretty well already."
Besides his experience, Hoel also brings other excellent skills to the job. "I'm a pretty good people person," he says with a humble smile. And because of his landscaping experience, he has a different view of the industry. "I can look at things from that viewpoint and give some other ideas," he explains.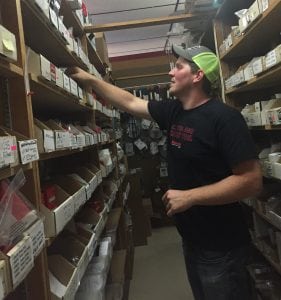 The biggest surprise for him so far is the customer service provided at The Power Shop. "It's so different how we take care of customers here. After a customer purchases equipment, we take the time to service the engine, level the deck and make sure it is working well. From the factory, mowers can have a manufacturing defect and you wouldn't know until you got it home, but we can catch it and take care of it before you leave."
Hoel really enjoys the fun events that he gets to do working with The Power Shop. "We did a Demo Day with a barbecue, and we let people drive equipment around," he laughs. The Power Shop also sponsored a night at the South Sound Speedway and one of the Cub Cadet Challengers was the trophy car. Hoel is also looking forward to working the 2017 Home and Garden show.
Hoel's jobs are varied at Power Shop. He takes care of the parts, stocks the floor in the store as inventory is sold, and helps with sales. "Before I started there was only one salesperson so I think it's helpful that I'm able to assist in that area. I see myself adding more roles as time goes on."
Rebekah Oliver, Hoel's supervisor, agrees. "We see him filling a long-term role in the future of our business as we continue to grow."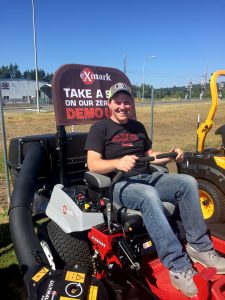 Hoel has a busy personal schedule. Three years ago, he bought a house to flip and just finished it. "I just put up the for sale sign," he says. "So hopefully it will sell soon. It's a hobby that I want to continue doing on the side. I really enjoy all the work involved with it. I'm kind of a jack-of-all trades."
But don't worry; he's not all work and no play. Hoel loves all things outdoors, so he is outside whenever he gets the chance, whether it be hunting, fishing or riding quads. He's also a muscle car enthusiast, attending car shows and getting ideas. He doesn't have a muscle car yet himself, but he wants to restore a '68 Fastback Mustang.
Hoel looks forward to many things—renovating more houses, restoring a Mustang and starting a family, but also continuing to build his career at The Power Shop.
The Power Shop
3820 Harrison Avenue
Centralia, WA 98531
360-736-6340
Sponsored