Beginning mid-September Twin Transit will begin using an important new bus stop at the Vintage apartments in Chehalis. Since 2013, residents at the Vintage have endured only limited access to Twin Transit bus service. Due to the dramatic slope of the parking lot entrance, Twin Transit is unable to use its preferred vehicle, a low-floor heavy-duty coach bus.
From 2008 to 2013 Twin Transit operated a smaller bus on Route #42 that was capable of accessing the Vintage parking lot. Route #42, which duplicated much of the geographic area provided by Route #30, was discontinued as a result of efficiencies made in 2013. Since then Twin Transit has replaced one of the two buses on Route #30 with a unique high-floor bus capable of accessing the sloped parking lot at the Vintage. The special bus is on a regular schedule to enter the parking lot seven times each weekday. When the new pullout along National Avenue in Chehalis is complete Vintage residents (and pedestrians) will have access to Twin Transit Route #30 twenty four times each weekday.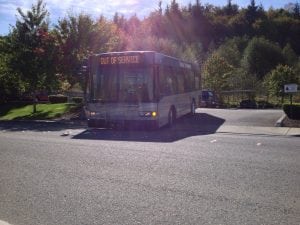 Privately owned parking lots present difficult challenges for a transit system and are generally less favored over conventional roadside stops. Parking lots often present time-consuming delays or potential hazards ranging from pedestrians and promotional activities, to delivery trucks and emergency services. While simply relocating bus stops to the public right-of-way seems like an obvious decision, it too comes with its own challenges. Twin Transit saves money by purchasing smaller "cut-a-way" buses for fixed route service; smaller buses often cost less than half of larger heavy-duty buses.
The smaller vehicles are built on a pickup or van chassis and often resemble a class C motorhome. Because bus operators are frequently required to perform hands-on assistance for passengers traveling with a mobility device such as a wheelchair, walker or stroller, the smaller buses are more problematic and less preferred for travel lane bus stops on busy arterials with the driver door remaining on the roadside. The more expensive coach buses provide the necessary protection for both driver and passenger while the bus is momentarily stopped in the travel lane.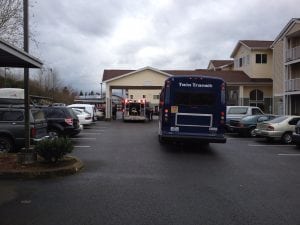 Twin Transit's blended fleet of large and small buses often encourages a turnout lane or pullout along arterial roadways that provide a designated area for passenger boarding and alighting. The investment along National Avenue at the Vintage apartments will cost the transit agency more than $175,000 after design and construction. While most bus stops are constructed for substantially less, Twin Transit hopes future infrastructure projects can be included in the original design of similar developments that have an obvious transit nexus.
For many years Twin Transit has placed bus stops on private property which is a practice the local transit agency is trying to eliminate. Overtime, more roadside bus stops, including turnout lanes, will help Twin Transit fixed bus routes operate efficiently and provide a higher quality of service—while reducing demand on expensive paratransit service for passengers who are prevented from accessing the bus due to a mobility limitation.
When enough new stops are complete, Twin Transit can use the GPS coordinates of each stop to consider investing in tools such as smart phone applications intended to communicate estimated times of arrival. Moreover, GPS technology can be used to automate announcements for passengers who may be unsure of bus locations due to hearing or vision impairments. Investing in more bus stops is one of the primary ways Twin Transit is working hard to improve the convenience and reliability of the local bus system. The new bus stop at the Vintage is scheduled to be complete the week of September 12.