Five years ago Ken Grasser opened a small produce store in Chehalis. Tucked away on National Avenue is where you can find Veggies – a family business that is focused on quality, fairness, and family.
Before opening Veggies in April 2011, Ken was the produce director for Fuller's Market Place for fourteen years. Being a business owner in the Chehalis area is something that Ken enjoys. "The people are really good people. It's a nice small town area," he says.
Until recently Ken had been commuting from Tacoma every day to be at Veggies. Recently he moved to Chehalis and can appreciate a much easier commute.
"The reason I opened this store in this area was because people needed a spot to buy Grade A produce at a fair price," Ken shares. With deliveries seven days per week, and Ken overseeing the quality, you can add fresh to the list as well. "I work seven days a week to ensure that the produce is fresh."
Ken stocks Veggies with the best produce around. When he can, he likes to buy local first. "I buy local. I start in Washington looking for what I want, if it's not around or not the season then I work outward looking to California and beyond," Ken explains.
Veggies sole purpose is providing customers with quality, fresh produce. But that doesn't mean that's all Veggies has to offer.
Ken's pride and passion provides his customers with the best in every detail of the store – from the bright, shining rows of veggies to the smiling faces of the welcoming staff.
In fact, some of Ken's youngest Veggies fans are responsible for his special moniker. With a smile Ken shares, "My name is Ken, but I'm known as Mr. Veggies, especially to the kids – that's what they call me." And Ken wears that name with pride. It is this pride that Ken is passing on to his grandkids. Ken explains, "I've always had my family with me at work. All of my kids are hard workers." And two of his granddaughters, Jaylin and Jaycie, work alongside him at Veggies.
Ken says, "The reason I built this is for them. I want my grandkids to have a place to work." Ken's grandson is still too young to be an official Veggies employee, but that doesn't stop him from coming down and learning the business. "It's great working with them and teaching them what I know," Ken shares.
Along with his granddaughters, Ken employs one other employee, Michael. "I don't over hire. I want to be able to keep my employees busy and make sure they get the hours they need," Ken says.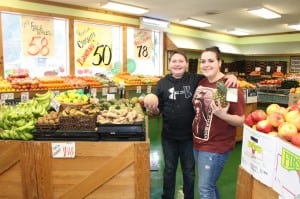 Veggies doesn't advertise and Veggies customers benefit from that. Ken explains, "By not advertising I get to pass along those savings to my customers and that helps keep my prices low." However, Ken does communicate with his customers via the Veggies Facebook page. "I use Facebook to tell my customers what I have."
Ken adds, "So many people shop all around looking for the best price. What they don't realize is that it's already here." Ken promises customers the freshest produce at the absolute best price. As he says, "Fair comes first."
Underscoring this philosophy is Ken's service to his customers. One such example is that Veggies has posted hours but as Ken says, "If you need to stop in and you see the red truck parked in the front, you can come in. I don't turn anybody away."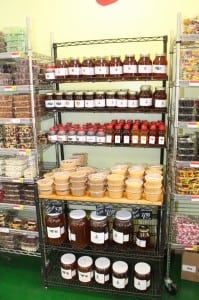 Ken offers a few tips for saving money when it comes to buying produce, including not buying more than you can use.Ken also shares that buying produce that is very fresh lasts longer, which saves you money.
Veggies might be all about the veggies—and fruits, but customers can also find other treasures at Veggies including craft beers, local wines, handmade Fina's salsa from Lacey, and an assortment of bulk foods. Ken says, "I also have Darigold milk that is at the best price in town."
Another delightful surprise you find at Veggies is their freshly ground peanut butter and almond butter. Ken says, "There are no preservatives. It's fresh. And you have to try the honey roasted peanut butter." The selection is always changing and Ken always has something new for customers to try.
Veggies Northwest-Chehalis
1849 N. National Ave in Chehalis
360-748-9888