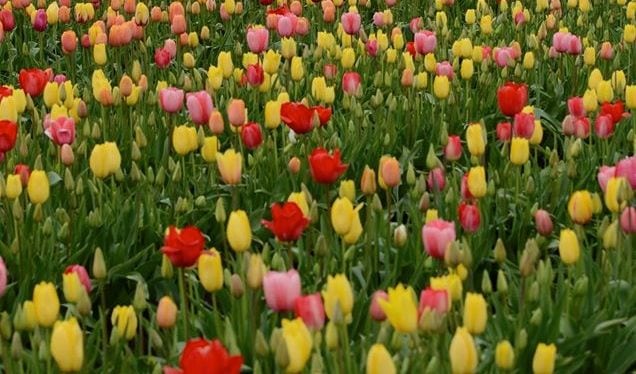 2015 is in the books and it is time to start planning fun adventures for 2016. One of the best parts about living here is that there's always something unique happening in Lewis County. Here is a list of 16 things you need to try in 2016.
Winter
Climb the Indoor Rock Wall at Thorbecke's Chehalis. Instead of climbing the walls at home, try climbing Thorbecke's Indoor Rock wall. Pay just $5 for members and $15 for non-members, complete an orientation class, and you are set to climb. There's also an option to have a climbing party, a great choice for winter birthdays. For questions, contact Rock Wall Coordinator, Maddy Coombs at rockwall@thorbeckes.com.
Ride The Polar Express in Chehalis. A ride on the historic steam train is always a good time, but in the winter it is truly spectacular. This family event is a must. Children are encouraged to wear pajamas for the ride and hot cocoa and cookies are provided. The train makes one stop before returning to the depot, and that is to pick up Santa Claus. Santa gives each child the first gift of Christmas. The ride lasts approximately an hour and a half. Tickets usually go on sale in early October. Be aware because they sell out fast.
Ski White Pass. For all the snow bunnies and wanna-be snow bunnies, White Pass is the place to go. Located in Naches, Washington, White Pass offers a quality skiing experience with gorgeous views. Check out their website for class offerings as well as lodging information.
Take a class. There is such a variety of artisan classes to choose from in Lewis County. Here are a few ideas. Stop by Flood Valley Brewing to sign up for a homebrew class. Go to Central Glass Works with a few friends and learn to blow glass and walk away with a new trinket. If you want to learn how to bead, go see Travis at Bead Opus. If you're looking for movement go to Embody Movement Studio to try one of their unique offerings. There's also the School of the Arts with class offerings for all ages and a variety of interests.
Spring
Visit DeGoede Bulb Farm in Mossyrock. In mid-April when the tulip fields are in bloom is absolutely gorgeous. Walk amongst rows and rows of tulips and see all the other offerings from DeGoede.
See a show at the Historic Fox Theatre. Offering live entertainment and films, it's difficult to choose only one show. Why limit yourself? The 2016 film series might be the best one yet! Plus, when you go to a show at the Fox, your ticket money goes right back toward helping the restoration efforts.
Explore Mount St. Helens National Park. Zip line adventure, ape caves, and miles of scenic trails. Do we need to say any more?
Visit a museum. Lewis County has several museums to choose from including the Lewis County Historical Museum, the Veterans Memorial Museum, and the King Agriculture Museum. Museums are a great choice for a rainy spring day.
Summer
Grab a burger from one of the area's many mom and pop burger stands. Whether it's Dairy Dan's in Chehalis or Centralia's Bill & Bea's Drive In, the great thing about Lewis County is that you don't have to go far to find a great burger – or fry sauce.
Go camping. Riffe Lake and Lake Mayfield are a couple of many great camping destinations in Lewis County. Pack your suit and stuff for s'mores and go enjoy a weekend on the water.
Attend Summerfest, Centralia. The annual fourth of July celebration begins early in the morning and lasts well into the evening. Summerfest includes a sponsored pancake breakfast, games and attractions at Borst Park, a parade in downtown Centralia, a destruction derby at the Southwest Washington Fairgrounds and the celebration concludes with a spectacular fireworks display.
Visit Skydive Toledo for the brave and those with a bucket list to check off. Skydive Toledo is one of the oldest continually running parachute centers in the country. When you gather your courage to jump, you can see six volcanoes and the ocean on a clear day.
Fall
ARTrails of Southwest Washington tours through Lewis County. Meet and interact with artists in the local area, view amazing art, and possibly awaken the artist in you.
Tour Dick's Brewing Co. with a pint of your favorite brew. Then try a tasting flight when the tour is done. A laid back atmosphere, great beer, and friendly service make this your new favorite hang-out spot. The tasting room is open Fridays and Saturdays from 3:00 p.m. until 7:30 p.m. with tours happening around 4:30 p.m. and 6:00 p.m.
Visit a pumpkin patch. Fall just isn't complete without some harvest time fun. LewisTalk has 4 Places to Pick the Perfect Pumpkin in Lewis County.
Maybe it's an annual tradition or maybe it's been many years, either way, go to a homecoming football game this year. I'm not sure if there is anything more quintessential or anything that brings out more hometown pride than a homecoming game. Check your local school district's calendar of events for homecoming dates.
Whether you're looking for a new outdoor adventure or looking to get to know your neighbors a little better this year, Lewis County is the place to go for fun, trying something new, and making 2016 a year you'll never forget.