Looking to have some fun? Nestled at the base of Puget Sound, Tumwater has plenty to offer and Twin Transit can get you there! Twin Transit's Green Line offers express weekday service from 6 a.m. to 7 p.m. Monday through Friday from Centralia's Mellen Street e-Transit Station to the Tumwater Transit Hub. Or use Twin Transit's door-to-door transportation program, DARTT, which operates from 8 a.m. to 5 p.m. Monday through Friday, and also goes to Tumwater and Olympia!
Enjoy a Day in Tumwater Outdoors
Looking for some outdoor fun? Explore Brewery Park and Tumwater Falls! These 15 acres of outdoor fun is highlighted with trails, cascading waterfalls, fun playground equipment, historical markers, fisheries, and a native plant garden. With so much to do, you may as well spend the entire day and experience it all.
There are a dozen other parks in Tumwater and many of them are within walking distance from the Tumwater Transit Hub near Labor and Industries. Deschutes Valley Park amenities include children's play toys, areas for a picnic, interpretive sites, and a scenic overlook from the top of the reclaimed water tank. Play a basketball or tennis game at Jim Brown Park, or for baseball and volleyball fun, check out Pioneer Park.
Take a walking tour of Tumwater's Historic District and explore the beautiful Schmidt House. The Schmidt house offers picturesque grounds with native gardens, bronze statues, and a reflective pool. In addition, history buffs will love to take a tour and explore the Crosby House.
Experience Tumwater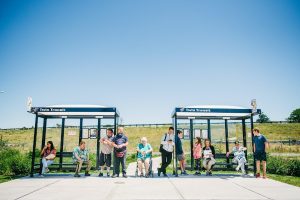 Hop on Twin Transit's Green Line and ride north to the Tumwater Transit Hub for fun in Tumwater! There are so many fun things to see and do:
Aviation fans will love a visit to the Olympia Flight Museum.
Get some exercise while having a blast at Defy Olympia, a trampoline park offering dodgeball, obstacle courses and more.
Briggs YMCA offers many activities for the entire family, including swimming pools, fitness classes, a climbing wall, youth programs and much more.
Are the older kids looking for something new to do? Kids 18 and under, and those still in high school, ride free on Twin Transit! (Children under the age of 10 must be accompanied by someone 16 years of age or older.) Let the kids go on an independent adventure and experience all that our area has to offer. Twin Transit's friendly drivers are there to help kids navigate the system easily and safely.
There's something for everyone, so take a trip to Tumwater with Twin Transit. Fares on the Green Line from Centralia are just $4 for a day pass and $40 for a monthly pass. And remember – kids ride free!
Or, if you'd prefer to book a DARTT ride, simply call 360.330.5555 by at least 4 p.m. the previous day.
If you have any questions, give the Twin Transit office a call at 360.330.2072; their helpful team will happily assist you in planning your trip!
Sponsored