Submitted by Providence Medical Group 
Many people in our community who have received a positive COVID-19 test are symptomatic and at risk of becoming severely ill but are not sure what their next step should be. Monoclonal antibody therapy, authorized by the FDA, given at the early onset of symptoms can significantly reduce the risk of needing hospitalization. The treatment may also shorten the duration of the symptoms.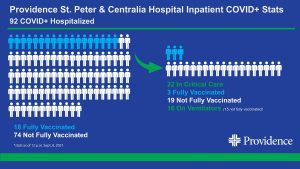 Monoclonal Antibody Therapy is indicated for adults and children (12 years of age and older) who:
are high risk for developing severe COVID-19 as determined by your provider and
have a positive COVID-19 test and have not been admitted to the hospital and
have had a recent onset of mild to moderate symptoms
"The earlier we can get patients into this treatment, the better they will do," said Zach Rafeh, chief medical officer for Providence Medical Group in Southwest Washington. "We encourage you to get tested for COVID-19 if you are experiencing symptoms. Do not hesitate or you could miss the window for this treatment."
Antibodies are proteins that exist in our bodies as part of our immune system to recognize and defend against harmful viruses and bacteria. Monoclonal antibodies used in this setting are special neutralizing antibodies that attach to a specific protein and prevent the virus from attaching to or entering cells. This can slow viral spread within the body, decrease symptoms and/or prevent serious disease.
A physician referral is required. By appointment only. No walk-in availability. Information on how to refer patients were distributed to providers in the community. Please contact your primary care or referring provider if you are interested in this therapy.
The treatment is being offered on an outpatient basis at Providence Medical Group-West Olympia to help serve our SW Washington community. This outpatient site will provide planned treatment to patients in the community. Emergency services should be used only for patients who are experiencing severe symptoms (ie difficulty breathing).
The clinic in West Olympia will have a special entrance and space utilized for those receiving this treatment. Please do not contact the West Olympia Clinic directly – please direct all communication about the service through your primary care or referring provider.
"Monoclonal Antibody Therapy can be extremely effective, but it's not a replacement for getting the vaccine. We highly encourage all eligible people in our community to get vaccinated to break this chain of transmission," said Dr. Rafeh.