All moms have been there. Regardless of if you have one child or a dozen, the demands of motherhood eventually catch up, leaving you tired and frustrated. Twin Transit's Pam Lafayette knows this firsthand and always goes above and beyond to help mothers (and kids) on her route.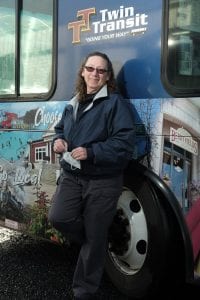 One Friday evening on her last loop, a tired mother and child boarded the bus. The mom was very frustrated with her kid, so Pam suggested mom take a break and sit in the back of the bus. Pam entertained the child up front with a special song time while the mom took a break at the back.
"The child and I had a great time talking and singing," says Pam. "I love kids and it was a great end to my day." Little did she know, that wasn't the end.
Earlier in the day, an issue had occurred on Pam's bus which required the attention of the manager. Later on, the police came to view the video of the problem so the people involved could be identified. "Cueing up the video starting from the end and moving toward the time needed, what did we hear and see? Me singing my heart out (off-key) with the beautiful child laughing and singing with me," says Pam.
Everyone smiled at the heartwarming sight and sounds of the two singing, "The Wheels on The Bus" complete with horn honking, wipers wiping and coin can clanging. "The men were laughing and saying that I have too much fun working," she says. "I was teased, affectionately, for months to come. It was a great moment to be a bus driver of public transportation."
Sponsored