Leanne Willard makes it clear, "We are coming back when it's safe to do so – absolutely." She's the mastermind behind the Bayview School of Cooking anchored at Bayview Thriftway, in downtown Olympia, on the shores of Budd Inlet.
The second-story perch, inside one of Thurston County's only two independently-owned supermarkets, (the second being Ralph's Thriftway), has a commanding vista of the Salish Sea and nearby marina. It's been a meeting place for foodies, friends, home cooks and chefs since 2003.
Leanne explains that in an abundance of caution, and in order to abide by public health guidelines for COVID-19, the school hasn't been offering its usual array of classes for adults and children. "I'm surprised how many people have stopped me and asked me if we're going to keep doing the Cooking School," she says, "and yes, yes we are!"
Although that's not possible at this moment, the Bayview School of Cooking has found a plethora of ways to continue deepening our community's relationship with food and keeping the "fun" in the functionality of cooking.
"Let's Do This at Home"
 Last spring, when the virus shuttered doors and windows, Leanne devised a way to stay connected to the cooking community. Feeling called to action, she began putting out a weekly collection of recipes on the Bayview School of Cooking's website that are what she has dubbed "Let's Do This at Home: Recipes and Inspiration That Make it Easier to Stay at Home."
"My first one was pantry staples," she says, "or frozen vegetables. Things you could do with frozen vegetables at home, and then I just went from there." The recipes focus on simple ingredients, things you may already have on-hand like canned beans and tuna, and she always tries to spotlight what's fresh and in-season at the time. "I try to keep them pretty simple," she continues, "although what I consider simple may not be what someone else considers simple, but at least there's not a huge amount of ingredients in them."
She's built up a database of over a dozen recipe newsletters at this point, including classics such as tuna-and-white-bean salad, old-fashioned banana bread and fun creations like dressed-up spaghetti and recipes to make with kids.
There's even a smattering of Hatch chile recipes, and if you were lucky enough to snag some freshly-roasted chiles during Thriftway's annual roasting event, you'll want to take a peek at these. "The Smash Burger is absolutely delicious! It's so good," Leanne says.
She also shares that if you can't get your hands on the revered Hatch chiles from New Mexico, that the easy-to-acquire Anaheim is a very worthy substitute in all of the chile recipes.
Make and Take Dinners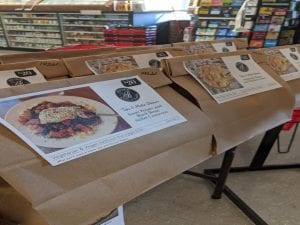 Sharing her love of food, recipe-writing, and creating in the kitchen isn't the only thing Leanne has been cooking up. She's also aware of the pandemic fatigue, especially in the kitchen, that so many of us are experiencing.
She's found a way to combat that and has put together some grab-and-go, shelf-stable meal kits created from recipes she wrote herself. "It's really taken off!" she exclaims and reports that she has three different meal kits available each week at both of the Bayview and Ralph's stores. "What you get is a recipe," she adds, "and every single thing you need to make that recipe, except for salt and pepper, and sometimes maybe a little bit of oil."
When asked about her process of creating all of the different meal-kits, "I really love a good challenge," she replies.
The Take-and-Makes are located right up front at each store, and nearly all of the ingredients are pre-portioned and require minimal chopping or dicing of the included vegetables. The meal kits are designed to be shelf-stable, so they focus on ingredients like really high-quality parmesan cheese, potatoes, grains, or canned meats like chicken or tuna.
The beauty of them not needing to be refrigerated is that they can be grabbed on one's lunch break and kept in the car until dinner, given as a gift, or be dropped by someone's porch who is in need of a delicious, albeit easy, meal. "I know people who have gotten these for their older kids," she says. "They send them home with them after they've been visiting. Or even pick one up and leave it on your counter for a few days until you're ready to use it."
The Take-and-Make meals Leanne has created are versatile, and no doubt exactly what we all could use more of right now: a home-cooked meal with minimal effort. They are very hearty, and though four servings is the standard, a lot of Take-and-Makers have reported that the kits serve more than four.
Snack Boxes
Perhaps all of your cooking where-withal has been depleted, and all you really want are snacks? No judgments here, and not from Leanne either. In fact, she's been embracing this sentiment. Leanne has been curating snack boxes that feature single-serving snack items. "I hand-select items for snack boxes that can be mailed, or bags to pick up, and we can do this for companies and organizations," she explains
She says the boxes are popular with companies hosting Zoom retreats, trainings or any type of special meeting, and she can also customize them for dietary needs like vegan and gluten-free.
She's excited about an upcoming box that an organization will be mailing out to their attendees. It's a soup box that has all of the ingredients to make a simple soup. The organization usually holds a winter soup meeting in-person, but with Leanne's help, the soup boxes will be the next best thing.
Seize, (or Season) the Opportunity
When we re-frame our current conundrum, it stands to reason that spending more time at home in our kitchens is an opportunity to deepen our relationship with food and home-cooked meals. "That's part of what our focus at Bayview School of Cooking has always been," says Leanne, "is to give people information. It's not intensive. It's entertainment-based. But as far as cooking at home – everyone's in a different spot and this must be a really unique experience for those who aren't used to cooking a lot. But it's forced people to look at their kitchens in a different way, and, well, what an opportunity."
For more information, visit the Bayview School of Cooking website or call 360-754-1148.
Located inside of Bayview Thriftway
516 4th Ave W, Olympia
360-352-4897
Sponsored