As Lewis County businesses begin to open, it's more important than ever to protect ourselves, our families and others against COVID-19. One easy way to do so is to wear a mask in public.
According to the Center for Disease Control and Prevention, COVID-19 spreads mainly from person to person through respiratory droplets produced when an infected person coughs, sneezes, or talks. These droplets can land on, or be inhaled by, people nearby. Studies on infection control report that these droplets can travel around six feet.
Even those who are not showing symptoms can spread COVID-19. Asymptomatic carriers feel perfectly healthy – but are still contagious. Wearing a mask protects you and those around you while you're performing essential tasks like shopping.
Many retailers, service and medical providers now require those entering their facilities to wear a mask. This protects their workforce and the community. You can help by voluntarily masking whenever you're in public.
While wearing a mask is important, it must be used in combination with other precautions such as handwashing, social distancing and staying home when ill.
And masks must be used properly. For example, there is a proper and safe way to put them on and take them off.
To put a mask on:
Wash your hands before putting on your face covering
Put it over your nose and mouth and secure it under your chin
Try to fit it snugly against the sides of your face
Make sure you can breathe easily
To take a mask off:
Untie the strings behind your head or stretch the ear loops
Handle only by the ear loops or ties
Fold the outside corners together
Place the covering in the washing machine
Be careful not to touch your eyes, nose, and mouth when removing the mask, and wash your hands immediately afterward.
Wearing a mask helps slow the spread of COVID-19 infections.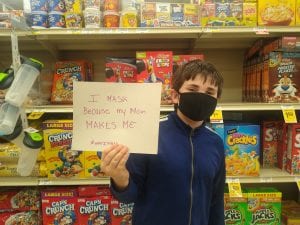 Returning to normalcy is something everyone wants. Donning a face cover while in public will help us get there faster. And wearing a mask protects others – including essential workers and those who are at a greater risk of severe complications or even death from COVID-19.
A fun way to help is by joining the Mask UP movement, recently launched by the Lewis County Community Services Coalition.
Simply follow these steps:
Commit to wearing a mask when you're in public.
Take a masked selfie holding a sign that shares why you mask, with #whyimask.
Post your selfie on social media and tag three friends – encouraging them to Mask UP and share their "why" as well.
You can also help by participating in United Way's Washington Mask Challenge. This statewide initiative is a partnership between the Lt. Governor's office, Serve Washington, and United Ways of the Pacific Northwest, encouraging Washingtonians to make, wear, and donate cloth face masks.
The goal of the challenge is to provide frontline workers with as many homemade cloth masks as possible. Community members who are interested in helping with the effort can go to volunteerlewis.org to learn more and sign up.
You can also support local retailers by buying masks. Gifted Hallmark in Chehalis sells beautiful sateen Johnny Was masks. At Alderson's Awards West, they sell quality masks made in the USA. Plus they do a full-color dye print, so no ink is on the actual mask. Sparkles N Spurs Boutique in Centralia offers several types of masks including duckbill, cone and pocket filter options. Those in need can also reach out to the Centralia-Chehalis Chamber of Commerce for limited individual mask donations.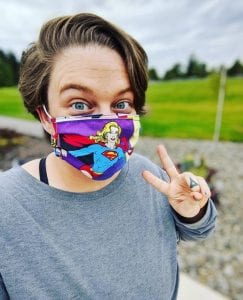 Special thanks goes to volunteers of the Facebook Lewis County (WA) Mask Sewing Group. These kind and proactive individuals have made and donated nearly 20,000 masks to local first responders, business owners and residents over the last few months. They've spent countless hours sewing to make sure everyone stays safe and healthy.
Since the COVID-19 pandemic hit, we've adapted to a new way of doing things. Adopting the norm of wearing a mask means getting the economy moving quicker. The citizens of Lewis County have always stepped up to help each other in times like these. Protect your friends and neighbors and help Lewis County reopen quickly and safely by wearing a mask.
Sponsored