Clean. Colorful. Curious. These are just some of the words that describe the new Chehalis Montessori pre-school. Owned and operated by Charlie DeVore, the house doubles as a residence for her and her six-year-old daughter. It also marks the beginning of teaching a method that feels right to Charlie.

"I taught traditionally for about 10 years as a pre-school teacher," Charlie said. "But I didn't fit what they needed." She found herself with more and more paperwork, teaching from standard textbooks. And this was for three-year-olds. "This didn't feel right to me, having them sitting and working at tables," Charlie said. "I started looking for alternative ways of teaching – something different."
What she found was the Montessori method of teaching, an approach to learning that has been around for over 100 years. The method, developed by Italian physician Dr. Maria Montessori, believes in developing the whole child through independent choices.
"Montessori is very one-on-one," Charlie said. "It's very individual, based on each child. We believe in meeting a child where they are and going from there. We don't expect every child to be in the same place. They all learn differently, and they all learn different things at different times."
Charlie interviewed for a Montessori position but didn't get it because she wasn't certified. As the interviewer told her more about the Montessori method, Charlie fell in love with it and decided to start training.
Most Montessori training centers require a four-year college degree. With course work, residential hours, internship and exams, it takes about two years to earn a Montessori certificate.
Once Charlie earned her certificate, she looked for a place to teach and raise her daughter. She sold her house in Maple Valley and looked for a home closer to Portland where her parents live. She chose Chehalis because of the feeling of community.
"It felt homey and I thought it was beautiful," Charlie said. "It really attracted me." She and her daughter like the nature they see as they walk through the neighborhood, sometimes even an occasional deer. Best of all, they can walk to the library and downtown stores.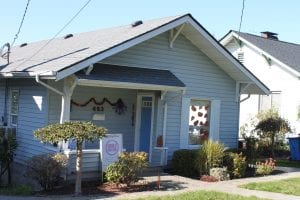 Charlie and her daughter moved into their home in May. Currently, the school takes up much of the main floor, but eventually, she hopes to remodel the house. Her vision is to turn the daylight basement into the school with access to a small yard. Right now, Charlie can accommodate eight students but eventually, she hopes to have twelve, from two to five-years-old.
Assisting Charlie in the classroom is Selina Passage. With a degree in early childhood education, Selina's taught for 13 years. Between the two of them, they move from table to table, talking to the children about their work.
A typical day starts at 8:45 a.m. when the children come in, take off their outdoor shoes and change into indoor slippers. They start looking around and find things that interest them then put them on a tray and take them to a table. Charlie and Selina watch what they grab and what they want to work on. If they have already had a lesson, then they are free to work on their own. When they finish, they put everything on the tray and put it back in the proper place, cleaning the space for the next person.
"They keep very busy," Charlie said. "They do that from 8:45 to 11:45 a.m." Some days the kids gather in a circle where she reads a book or sings a song. The mission at Chehalis Montessori is to offer a program which considers the emotional, intellectual, physical, and social development of the whole child by acknowledging the individualism of each child in a nurturing, emotionally secure, and academically enriching environment.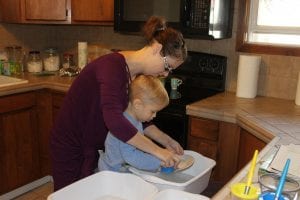 At 11:45 is lunch. The children take out a place mat with plates, knives, forks and spoons so they can have their own place to eat instead of eating out of baggies. After lunch, they clean up. There is an area where they wash their own dishes and then they put their stuff away. Afterward, they go outside to play until pick-up by 12:45 p.m.
The Chehalis Montessori School is not sponsored or supported by local school districts or state money. The cost is $504 a month for students who attend five days a week and $305.20 for those who attend three days a week. A one-time deposit of $504 is refunded at the end of the school year.
Parents are encouraged to observe what takes place in the classroom to see if it fits their children. At the beginning of September, two parents were considering enrolling their children but weren't sure if they were ready to stay on their own. Charlie encouraged them to stay with their kids. Eventually, they left their children on their own. Later they signed up.
With her love of the Montessori method and the community of Chehalis, Charlie found her home and a profession she is passionate about. "I'm so excited to be doing this," she said. "I want to do this until I retire."
Chehalis Montessori
493 Washington Ave.
Chehalis
chehalis.montessori@gmail.com