The Sisters of Providence brought health care to Southwest Washington more than 130 years ago. Providence came to the Lewis County community in 1983, and in 1988 took sponsorship of Providence Centralia Hospital.
Providence is proud to be part of our community. Driven by their mission, last year, Providence provided $67.2 million in community benefit to make sustainable improvements in the health of our communities throughout Southwest Washington. Building on the commitment to care for those who are poor and vulnerable, this included more than $12 million in free and discounted care for those in need. Spending related to the unpaid costs of Medicaid was nearly $45 million.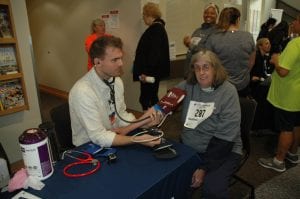 In 2018, there were:
More than 37,000 visits to the 22-bed Emergency Department
662 babies born in the Family Birth Center
4,500 inpatient admissions
More than 300,000 outpatient visits
Outside the hospital walls, there were thousands of patients seen in the Providence Medical Group clinics in Lewis County; hundreds of patients treated at the Providence Cancer Center in Centralia, part of the Providence Regional Cancer System; many elderly who live in Providence Place, the Blanchet and Rossi houses, part of Providence Senior and Community Services, who would have nowhere else to go without Providence; and countless hours spent with those in their most vulnerable time by the nurses of Providence SoundHome Care and Hospice.
Providing more access to primary care is a critical component of health care. Providence has invested hundreds of thousands of dollars in a rural family medicine residency program in Chehalis that is training the next wave of primary care providers. In Centralia, they donate space on their campus to Valley View Medical Center, a federally qualified health center committed to providing quality integrated medical, dental, behavioral health, and pharmacy services to families and individuals of all ages, regardless of the ability to pay.
At no cost, the navigators at the Providence Regional Cancer System guide patients and their families through the difficult process of a cancer diagnosis into survivorship; and the dedicated professionals of our medication assistance program saves patients millions of dollars annually in drug costs.
Providence is the largest employer in Lewis County, with about 900 caregivers. Their employees hold elected offices, serve on boards and coach local sports teams throughout the area.
They honor and serve those caregivers with excellent wages and benefit packages: including medical, dental, vision, retirement accounts and more. Providence offers Caregiver Assistance Programs for those in need tuition reimbursement for those furthering their careers, and discounts on products/services locally and nationally.
Recently, Providence Centralia has garnered many local and national patient safety and quality awards. The hospital:
Was the recipient of the Healthgrades 2019 Critical Care Excellence and Patient Safety Excellence awards.
Earned the 2019 Get With The Guidelines® – Heart Failure Gold Plus Quality Achievement Award.
Achieved Pathway to Excellence® designation by the American Nurses Credentialing Center.
Ranked top 10% in Washington State for Patient Safety in Orthopedic Care based on Quantros' CareChex® Hospital Quality Ratings Analysis.
Was part of the SafeCare Group 100 safe hospitals in the United States, based on low infections, readmissions and complications.

Young athletes received free sports physicals this summer. Photo courtesy: Providence
Beyond the numbers, Providence remains steadfast in serving all. They work diligently to support services and programs that extend beyond the traditional hospital setting and collaborate with community partners to address the greatest needs in our communities. Knowing they can't do this alone; they thank their caregivers and community partners for their compassion, collaboration and goodwill. It is Providence's privilege to work together to build healthy communities.
Free health screenings and advice at community events in conjunction with local Rotary clubs, Centralia-Chehalis Chamber of Commerce and Lewis County United Way; free sports physicals for local students at our clinics; and scholarships for nursing students at Centralia College are just some of the other ways they collaborate to create healthier communities.
Providence feels it is a blessing to continue to carry out the Mission of the Sisters here in Southwest Washington in service to our community.
Sponsored