Sports have always been a part of life for Bob Dow, first as a student-athlete, then as a high school coach, and now in broadcasting. With his attention to detail and an unwavering passion for local teams, Bob is a well-known voice of Lewis County's high school sports.
Bob started his career in local sports broadcasting with color commentary for football around 1975. He began doing the play-by-play in all sports on KELA/KMNT radio around a decade ago. "It's something I love to do and it's fun for me," he says.
His family are his biggest fans. They're also the best positive critics. They let him know what he does well and what needs improvement. "I've learned a lot from some of the people I've worked with in the past," Bob shares. "I'll ask people what they think. I've been so lucky because, for whatever reason, people like what I'm doing. So I just add things to it."
Even though Bob's a tried and true Onalaska Logger, he is diligent to be completely impartial on the air. "I've got to walk down the 50-yard line and be true and faithful," he says. "It doesn't matter what teams are playing; you have to walk in the middle of the road and be kind and fair to everybody." Even if the game is against an out-of-area team, Bob maintains his unbiased analysis.
Bob's play-by-play action is peppered with scores from other local games. Friends from all over the country send him updates. "No matter where I go, I've got friends," he shares. "I thoroughly enjoy meeting and re-meeting old and new friends, and learning about the kids."
What makes Bob such a fantastic sportscaster? He does his homework before games and at the beginning of each season. "I go through and find out who I should be watching for," he says. "Are there any standouts? Hardworking kids? I like to contact the coaches. I've been very fortunate, for the most part, to develop a good rapport and relationship with them."
Athletes he covers on-air often become some of Bob's biggest fans. "When I get 15 to 20 graduation announcements from kids around the county, that's my thank you," Bob says. "I think, okay I've done something right. Even when they become young adults, they always come over and say hi. That's my pay right there."
Bob's unparalleled knowledge brings games to life. His descriptions make it easy to imagine what's happening on the field or court. His 94-year-old father experiences low-vision and can only see a ballgame through Bob's voice. "I'm trying to paint a picture so the people listening can see what's going on through my voice," Bob says.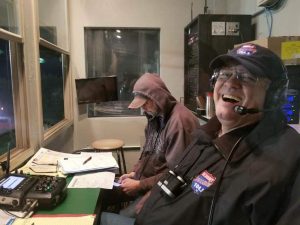 His connection with players is obvious. Bob knows the athletes and their histories. He can even comment on family members he recalls from past seasons. "Relatives like to hear their kid's name on air, so I say something positive about every kid I can," Bob says. "Sometimes they only play in the last 15 seconds of the ball game so you make sure to say they're in the game. I've tried to do this over and over again. It turns out to be fun for me."
What keeps the job fun after all these years? The quality of local sports teams. "Central 2B and the Pacific Leagues are the two main ones in the area," says Bob. "Central 2B is probably the most prolific league in the state. There are some very, very good teams and coaches throughout C2B and Pacific League. Those are some tough teams. These teams don't rebuild – they just reload."
Bob looks forward to watching standout athletes who never give up. "I like to see the kids who pay their dues and work hard – who develop to be a good citizen, a good team leader and listen to the coaches. How can you go wrong – win, lose, or draw?"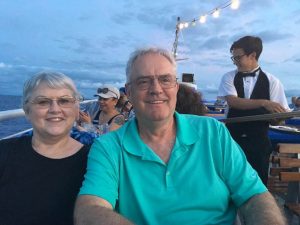 He recalls a young girl from his coaching days who would step over the line with her foul shots, nullifying the effort. Bob literally laid on the line during practice, telling her to not step on him. She became one of the most improved players he's ever seen.
According to Bob, what kids gain from their athletic experience is amplified by how their families support them. Likewise, poor familial support can be detrimental. "It breaks my heart to go to a ball game and little Johnny's mom, dad, uncle, grandpa, or whoever can't be there because they're working or just choose not to be. I feel really bad for little Johhny or Julie," he says. "I think parenting is one of the most important things you can do – being involved with your kids without overstepping the bounds."
Although sometimes it helps to lay on the line.