What is your legacy? Caught up in the rat race of daily demands, most never consider this vital question. But several Lewis County businesses have – and they've decided to answer with the gift of education.
Several local businesses and individuals have joined with the Centralia-Chehalis Chamber of Commerce to award scholarships to promising young students. These gifts help budding scholars achieve their goals and uplift their communities. Several scholarships also honor those who've passed, keeping their memory alive.
Last year, the Centralia-Chehalis Chamber of Commerce presented Cheyllyn Collinsworth's mother with flowers and news of a new scholarship in her daughter's name. Cheyllyn died in a tragic car accident during her senior year. "Her loss was horrible," said Centralia-Chehalis Chamber of Commerce Executive Director Alicia Bull. "This opportunity felt like a great way to honor her daughter's life that was tragically cut short."
The scholarship will be funded by Centralia Law Office, Althauser, Rayan, Abbarno LLC. This business believes in giving back, honoring those our community has lost, and investing in the future. By funding this scholarship, they are establishing a positive legacy that will continue to pay dividends for decades to come. This and other scholarships are awarded at the annual Rob Fuller Scholarship Luncheon.
The Scholarship Luncheon originally featured the Centralia-Chehalis Chamber of Commerce scholarship, which was developed to encourage and promote educational opportunities for Chamber members' children. "In 2011, The Chamber of Commerce changed the name of the scholarship to honor long-time Lewis County resident, president of Fuller's Inc. and philanthropist Rob Fuller, who passed away in 2011 from lung cancer," Bull said. "This scholarship was made possible through generous contributions from local Chamber member businesses and the hard work of the Chamber Ambassador group.
The program expanded exponentially from there. "The scholarship program has grown from three $1,000 scholarships when I came on as director in 2011, to over a dozen (and growing) $1,000 scholarships," Bull said. "Every year our organization gets notes of thanks from recipients that are able to utilize the scholarship to lighten the load of education expenses."
This year's scholarships include:
Several Rob Fuller Scholarships from the Centralia-Chehalis Chamber of Commerce
The Olivia Mitchell Scholarship, funded by the Chamber Board
The Cheyllyn Collinsworth Scholarship, provided by Althauser, Rayan, Abbarno
Boys and Girls Club Scholarship
Centralia Community Foundation Scholarship
Rainier Connect Scholarship
TwinStar Credit Union Scholarship
Visiting Nurses Scholarship
Title Guaranty Scholarship
The deadline to apply for these scholarships is May 3. "Students should note that you do not have to be a top 25 student to win a scholarship," Bull said.
Businesses are encouraged to start their own scholarship as well. "We are always looking for additional businesses to create a scholarship in their name and fund it," Bull said. "If they are interested for 2020's event, they can let us know now so we can start planning on incorporating them."
Local businesses, organizations and individuals can also support scholarships by donating money and raffle items to the event. The Chamber is looking for $25 gift cards, which will be given to all 51 students as a special gift. "And we are looking for sponsorships of the individual students and administrators," Bull said. "A sponsorship is $30 and pays for the student's lunch."
The 2019 Rob Fuller Scholarship Luncheon will be held on Thursday May 16, from 11:30 a.m. – 1:00 p.m. at the Great Wolf Lodge. This plated event will feature delicious pan-seared chicken breast. The keynote speaker will be Tom "Tully" O'Keefe, founder of Tully's coffee and owner of O'Keefe Development.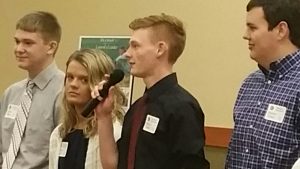 The Top 25 students from Centralia and WF West High Schools will be honored and select students from Centralia, WF West, and Adna High Schools will receive scholarships. "Mr. O'Keefe mentioned to me that he has something special in store for the event," Bull said. "Every year is slightly different and always full of good things."
Attendees should RSVP prior to May 10 to secure a reservation. Contact the Centralia-Chehalis Chamber of Commerce at 360-748-8885 to reserve your seat or become a sponsor.
Rob Fuller Scholarship Luncheon
May 16, 11:30 a.m. – 1:00 p.m.
Great Wolf Lodge
20500 Old Hwy 99 SW
Grand Mound, WA 98531
* Pre-register by May 10
Sponsored