Always looking to keep the customer happy, as well as stay on top of popular drink choices, L&E Bottling has been excited to expand their offerings to include a Pacific Northwest staple – coffee.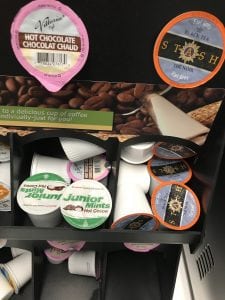 L&E Bottling is a family-owned company that has been providing cold beverages to their customers for over 70 years. They like to say they have been "Quenching thirst since 1945." It only seemed natural to supply the equipment and service so customers could enjoy hot beverages as well. L&E Bottling began their coffee service four years ago by offering it to their existing customers. "We had the delivery structure already in place, so it made sense to add this convenience for our customers," explains Shad Cooley of L&E.
Providing a coffee service for their existing customers streamlined things so they didn't have to rely on multiple vendors. L&E is renowned for its customer service and businesses were thrilled to partner with them for this new offering. Today, L&E has more than 350 coffee service customers in their territory covering Thurston, Mason, Lewis and south Pierce Counties. Customers range from companies that sell coffee in their retail convenience stores to offices that provide coffee to their employees. Having good quality coffee available is a great perk for customers and employees alike. There is nothing worse than to look forward to a cup of coffee only to find a burned pot of sludgy black liquid that's been sitting out all day. I have a friend who chose where to buy her car based almost entirely on the excellent coffee service that was provided at the dealership – no kidding!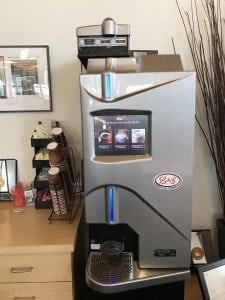 I-5 Auto Group is excited to provide L&E coffee service to their customers. I-5 Toyota Service Advisor Khalid Khan nods and smiles broadly as he says, "Yes, the customers really like it. It's so fresh."
The coffee itself is purchased from Cycle Town Coffee Roasters in Portland, Oregon. "Cycle Town coffee is organic and fair trade," shares Cooley. "These are two things that are very important to many of our customers and we were thrilled to find a company that provides this quality coffee." Cycle Town is a small batch roaster meaning that L&E can order in small amounts with only two weeks' notice, ensuring that the coffee has been roasted fresh with every brewed pot.
Convenience stores, hospitals and schools also love the service. L&E provides all the equipment at no additional charge with excellent customer service and no delivery fees.
"We can provide service to the complete spectrum from a small company's office with 5 to 10 employees to hospitals with hundreds of employees and visitors," explains Cooley. L&E provides the same flawless customer service that they are known for in the cold beverage industry to their coffee service customers.
Not only can L&E keep businesses and their customers caffeinated, but they keep them hydrated as well. The company offers a five-gallon water cooler service, complete with hot and cold water, perfect for chats around the cooler on the latest office happenings or your favorite Netflix series.
Opening a new business line has given L&E Bottling even more opportunities to support their community. "We love to support our community and this gives us another way to help," shares Cooley. L&E provides water and coffee service to the Centralia-Chehalis Chamber of Commerce and visitors are welcome to stop in and sample the various flavors. Marketing Manager Cecilia Jiminez raves about it. "We're not wasting coffee by making these big air pots that sit there all day then get thrown out. The K-Cups are perfect for the Keurig and the product is really good," she says enthusiastically. Jimenez says that several Chamber members will come in and get some water or try a different flavor of coffee. They keep the product behind the counter so you just need to ask for it and you'll be taken back to make your selection. Try a different brew – it may become your new favorite.
You can purchase L&E Bottling Company beverages or try their coffee at the Freeway Mart on Mellen Street, Toledo Market Fresh IGA, Blanton's Market in Packwood, Morton County Market, Brenda's in Onalaska, Awesome Ford, Twin Star Credit Union, Security State Bank and Morton Hospital, among others.
The community has also been enhanced by the addition of several employees to L&E's staff to help support the coffee service. "We have added two new business development positions, a full-time coffee employee and a part-time coffee delivery person to our team," shares Cooley.
L&E Bottling can help you select the coffee or water cooler service that's right for your employees and your customers. With an ever-expanding variety of beverages, everyone will happily drink up.
Visit their website or call Shad Cooley at 1-800-500-3812. L&E Bottling is located on Mottman Road in Tumwater.
Sponsored