Transportation is a bit of a buzzword around the county lately. With the recent decision to put countywide transit expansion on the ballot in November, there are many conversations happening about Twin Transit. So what is a Twin Transit bus ride really like?
I recently boarded route 30, the Intercity Express, with Twin Transit General Manager Derrick Wojcik-Damers and Commissioner Bobby Jackson for a ride and to connect with passengers. "We are very hopeful for countywide transit services," said Jackson. "Conversations have continued all over the community – people are asking questions. There is excitement for the vote in November."
Jackson notes how the expansion could benefit those who need access to the outlying senior centers in cities such as Vader, Winlock and Toledo. The expansion would create the potential for job-seekers to access employment opportunities and for students to get to Centralia College. It would also benefit cities on the east side of the county.
Even more exciting is the potential to link to other transit services, expanding them even further. "A channel of communication has opened with our community neighbors," said Wojcik-Damers. "We are asking, 'What do we need to do to tie in with you?'" County expansion really means a regional expansion of transit services allowing riders to access services in other counties.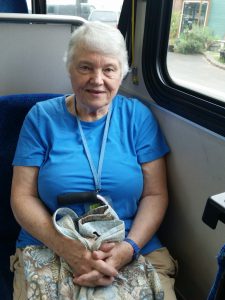 Twin Transit is also looking at various ways to improve the services already in place in Centralia and Chehalis. Purposed expansion of weekend services and city-to-city services to the local high schools are some of the modifications Twin Transit is considering. "Our focus is in tune with services and the overall picture for best services," said Wojcik-Damers. "It's good to look at it with a fresh perspective as ridership changes. That means looking at service realignment with what's in place now."
Twin Transit is looking for the best way to acquire a new electric bus from the Department of Ecology with the Volkswagen Mitigation Settlement. Typically, this program involves destroying existing diesel buses and replacing them with electric ones. However, Twin Transit found an innovative company that can retrofit an existing bus to be powered with electric, making it zero-emission.
Another thirty-five-foot bus will soon join the fleet, funded by the federal and state budget for transportation. Eighty percent of the cost for this bus will come from government grant money. "For major capital projects, Twin Transit management is proactive to aggressively pursue access to grant funds," said Wojcik-Damers. "That leads to more money for services."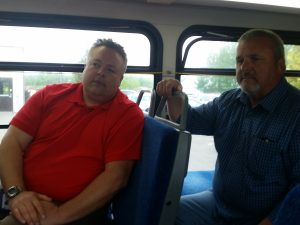 In Chehalis, the bus picked up longtime rider and transit advocate, Jean Fairgrieve. She discussed the beginning of transit in the Twin Cities and the changes that have happened since the '70s. Interestingly, the transit system was a result of local seniors trying to establish senior centers. "You couldn't have one without the other," said Fairgrieve.
She recalls citizen committees working with local pastors and Area Agency on Aging employees – carpooling to meetings – to bring bus service to the area. Finally, the county took over and put in the route.
Fairgrieve helped determine where routes should go and kept stats on passengers. "I had a good idea of the types of people and where they were going," said Fairgrieve, who says services were "a bit raggedy" in the beginning. Transit funding was originally tied to a utility tax before the two-tenths of one percent sales tax we have today.
Fairgrieve feels the proposed countywide expansion would help those who need access to Centralia College and enable those who experience a disability to see doctors. "It's kind of tricky to get around when you can't drive," said Fairgrieve. "Expansion would be a huge help." She also notes that Twin Transit's level of professionalism is currently at an all-time high.
Fairgrieve knew transportation was important to students from the start. To this day, she understands how transit strengthens a community. Wojcik-Damers noted the work Fairgrieve did for the area. "She is our founding mother," he said. "None of this would have ever happened if it wasn't for her. We have to be forward thinking. It's about the future. It's not going to be quick but we need to think about twenty years later. We will grow, expand and evolve, and do what's beneficial for the future."
Getting off where we started at the Amtrak station, Jackson shares my sentiments on our Twin Transit ride. "I enjoyed it," he said. "It's a comfortable ride and the drivers are friendly. Twin Transit has done an exceptional job of performance and maintenance." Jackson pointed at the crowds getting on and off the four buses, adding, "It's a service that is obviously much needed."
Wojcik-Damers invites the community to come to public comment meetings, share their thoughts and learn more about Twin Transit's service changes. Meetings will be held at the Centralia Timberland Library on June 12 at 3:30 p.m. and at the Chehalis Timberland Library on June 13 at 3:30 p.m.
Sponsored