Two women step on the bus every Friday and ride it from Centralia to a little restaurant near the courthouse in Chehalis. They're sisters, they're elderly, and they don't drive. This is their big outing every week, to get a simple bowl of chowder. But it was very important to them. And it was because of them that Jean Fairgrieve fought for a dependable bus system back in the early 1970's. "I just thought that it wasn't fair that these ladies should be deprived of their one simple outing every week. They're what kept me going," explains Fairgrieve.
The Rider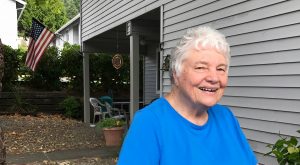 Fairgrieve tells how there was a bus system in Lewis County, ran by a man in Olympia. Fairgrieve didn't drive and used the bus regularly. One day she had all her errands planned and the bus didn't show up. It turns out the man had stopped bus service with no notice. It also turns out that it was illegal. Fairgrieve teamed up with a local pastor and they contacted the Department of Transportation and delivered petitions to get service started again. It resumed, but only for a short while. However, during that time Fairgrieve gathered all the data she could.
"One day I rode the bus and interviewed everyone to find out why the rode the bus, how often and where they went. I knew we needed statistics to show the need, and I got over 100 responses," she says proudly.
She arranged carpools for people who used the system to attend meetings. "I had a huge map on my wall with pins in it for where people lived, so we could get everyone organized."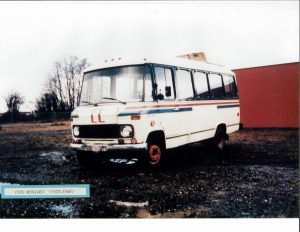 About the same time, the county was applying for grants to start senior centers and the grants required a transportation service. "It all fell together nicely," smiles Fairgrieve, and in 1977 Twin Transit was born.
Fairgrieve is as passionate about the bus system now as she was in the 1970s, making sure she attends every Twin Transit board meeting. "It's still important to be involved and make sure riders are represented," she explains.
The Driver
Peggy Haase is the longest serving bus driver at Twin Transit, coming up on 28 years. "Back then there were four fixed routes and 11 drivers. We parked all the buses inside the shop where the office is now. Now we have seven fixed routes plus two Paratransit buses, and 18 drivers," says Haase. "We used to get 70 to 100 riders in a fall day back then. Now we have close to 200 riders a day on each route. There is a lot of ridership."
When Haase started, buses would stop to take a lunch hour during the middle of the day. Now, they have continued service and the system rarely shuts down at all, except for times when there is black ice, or during city-wide floods. "We could only go from the Lewis and Clark Hotel to Fuller's Market," reminisces Haase.
Twin Transit has also helped during times of emergency, Haase recalls. "We helped evacuate during some floods, and one time there was a fire downtown and they called us out to help transport people, but by the time I went on duty the Salvation Army was there."
Remembering things she has seen while driving, Haase says she has reported several fires, including jumping off the bus to help a homeowner use a hose to try to control a fire.
Haase says the riders haven't changed much over the years – single moms, people with disabilities, people going to various medical facilities. One group she has seen increase lately are people getting a ride to work. "That's really nice to see. And just about every day we get new riders, people from out of town, and even those living in town who have just never tried the bus before."
"I enjoy being outdoors and being in the community, so you can get both of those things driving the bus. But I really enjoy the people, talking with them and sharing stories. That's the best part," Haase smiles.
The Future
Twin Transit now looks to the future with the purchase of land and buildings on Pearl Street. While the original plan included revamping the old Carpenter's building on the property, recent issues have come to light. The revised plan now focuses on building a new structure. "I think it will be great," says Fairgrieve. "Many people who ride the bus don't have much money or are unable to drive. It's easy to say, 'Why should I pay a tax for a bus, I have a car.' But we all need to be there to help others in our community who aren't as fortunate, like the two elderly sisters who kept me going."
Twin Transit
212 E. Locust St.
Centralia WA 98531
360-330-2072
Sponsored