Ralph and Joyce Carr have made serving the community an integral part of their lives. Ralph served as the Pastor of Westminster church in Chehalis for 31 years before his "retirement" in 2004. Since then he has served as the interim pastor in five churches, four of which were going through difficult issues when he walked through the door. One of Ralph's gifts is to bring calm to stormy situations. Joyce taught pre-school for 28 years. But beyond their careers they are both passionate about helping folks who are vulnerable or in need.
According to Ralph, his passion for community involvement came from the way he was raised. "It may be because of my parents," he says. "We moved to California when I was in the 6th grade, in this little valley that flooded often. We lived on the hill and after a flood my step-dad and I would go clean people's houses. He was in the volunteer fire department. My mom was involved in all sorts of things." Ralph summarizes the source of his community involvement as, "My parents on the one hand and the teaching of Jesus that, 'I have come to serve not to be served.' It's what shaped me."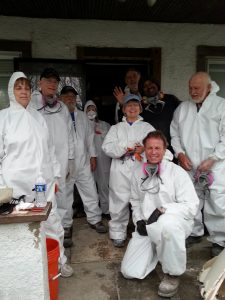 Joyce's mom and dad had a similar spirit of service. A lot of it was in church but Joyce's dad was on the school board. Joyce's mom was an unofficial 'bus driver' giving kids rides to school in the rural area south of Tillamook. "All of our kids are service oriented too," says Joyce.
The Carrs have traveled to natural disaster areas, starting with Katrina, 10 times in 10 years, in addition to three other mission trips. They've been to Gulf Port, New York, Malawi and Alaska to name a few. All three of the Carrs' children and some grandchildren have accompanied them.
"I don't know what people's perception of retirement is," jokes Ralph, "you travel and lay around and eat bonbons."
And though the Carrs have also traveled for fun, they continue to spend a good amount of their time in the community helping out.
Guardian ad Litem Program
Joyce has been volunteering as a Guardian ad Litem (GAL) for 12 years and has represented 55 children in that time. GAL volunteers are members of Court Appointed Special Advocate (CASA). They speak in court for the best interests of children who have been abused or neglected and are in dependency. Attorneys speak for the parents, while the children are represented by the guardian ad litem.
Joyce explains, "I retired from teaching and someone in our church who worked for juvenile court said, 'We need you.'"
"It fits her experience and gifts," says Ralph, "and she's really very good at it. Currently she has eight kids she is the spokesperson for in court. It's a phenomenal volunteer opportunity for those who are willing. They really need more GAL volunteers."
Right now, there are 48 children in Lewis County who have no Guardian ad Litem. So the need is great.
To be a Guardian ad Litem you need to complete 30 pre-service training hours, pass a background check and commit to a case until it concludes. The next training is in May. In training one learns how to do investigation, write reports and speak for the children in court.
Though Joyce finds the work extremely rewarding, it's difficult to have so many children to represent because she can't give them the time that she would like. Joyce spends time getting to know the children and working to see things from their point of view. Sometimes she is the only constant in their lives. Two children she has represented for three years have had five social workers. Because of this dynamic, the commissioner and judges really listen to the opinion of the Guardian ad Litem
"And it's a real joy," says Ralph "when a parent who has lost their kids shakes their heads and says, 'Yes, I have some issues' and works on them and gets the kids back. That doesn't happen too often."
"They get applauded in court and the commissioner will say, 'They did good,'" says Joyce.
Becoming a Guardian ad Litem is a vital opportunity to make a real difference.
Severe Weather Shelter
In the 2016-2017 winter season Ralph, Joyce and their son David were managers for Bethel's severe weather shelter. Though they no longer manage it, they still volunteer for the program.
The shelter opens to house the homeless when the weather is 38 degrees or colder or if it's really storming. "I've done a lot of things to try and help the homeless," says Ralph, "but to actually be there every night was rewarding but difficult … And we were open 72 nights in a row because of the temperature."
The shelter was downtown last year but this year it is at the Fairgrounds with a building for the men and one for the women. They also have a security person now.
The severe weather shelter is a ministry of the Bethel Assembly of God in cooperation with the city and county governments. Bethel also does a food pantry twice a month, runs the Hub City Mission bike ministry and provides a lunch every Tuesday at noon for anyone who wants to come.
It takes 98 volunteers a week to keep the severe weather shelter staffed and volunteers are always needed. The shelter is open from 7:00 p.m. to 7:00 a.m. and while the Carrs are partial to the 11:00 p.m. to 4:00 a.m. shift, there are three shifts each night. They need at least one female and one male volunteer per shift, but four volunteers are preferable.
A volunteer will receive training and, according to the Carrs, there are wonderful people to work with.
Harrison Square Church
As Interim Pastor at Harrison Square Church, Ralph Carr is naturally invested in the community outreach there. Harrison Square opened A Joyful Noise Daycare last April and, while half the children attending are paid for by their parents, the other half are children in dependency or foster care.
The Abundance Food Pantry, which provides fresh produce, is another new program.
Harrison Square also provides a Basic Needs Ministry through Love, Inc. Basic needs are items that cannot be purchased with food stamps like toilet paper, diapers, tooth paste and cleaning supplies, to name a few. If you are interested in donating to the Basic Needs Ministry visit their webpage.
The Carrs are wonderful examples of how to live a service based life. They embody the purpose and fulfillment that comes from consistently giving back. Our community is a better place because they are here.