Since May of 2017, L&E Bottling Company has distributed chilled beverages along with a variety of other products. By installing refrigeration units in their fleet, they are able to offer more versatility and extended options. "It's something new, something exciting," says Jamie Kennedy, L&E Bottling's New Business Development and Chilled Beverages Lead. "We look for the right brands that can be an alternative for the consumer to drink. A lot of people are becoming more health conscious. We're trying to find those right brands and, where possible, the local suppliers to meet this demand."
Every day a dozen or so L&E Bottling trucks deliver to three counties. All of Lewis County falls within their distribution area, from Blanton's Market IGA in Packwood to Good Health Nutrition Center in Centralia and Veggies in Chehalis. They also deliver down south to Toledo Market Fresh IGA. In addition, the company delivers north to Thurston County, east to Yelm and to half of Mason County. L&E Bottling's evolving product list will positively impact consumers throughout this wide area.
"There is a lot of drive on the healthy side," Kennedy says. "People still love their soda and sugar and sweets, but there is a lot more balance out there." Younger consumers, in particular, are looking for alternatives. "People want more out of their drink," Kennedy says. "They want more functionality from it." Customers want a drink that is doing something for the body, more than just quenching thirst.
Bolthouse Farms smoothies are the main chilled item distributed by L&E Bottling. Fruit and vegetable smoothies are one of the fastest growing functional beverages and L&E carries over twenty-five different Bolthouse Farms smoothie flavors. These provide a healthy option that's filling on the go. L&E Bottling first started selling Bolthouse Farm smoothies in large retailers like Shop 'N Kart and Morton Country Market. "The products offer a way to get extra fruit and vegetable servings for the day in an easy and on the go way," says Kennedy.
Convenience stores are now common places to find functional beverages. "The products have really started to pick up because it's becoming more common and a daily drink for consumers," Kennedy says. Food companies, including beverage companies, are making convenience foods healthier and more accessible by using nourishing ingredients and packaging foods in easy to carry containers.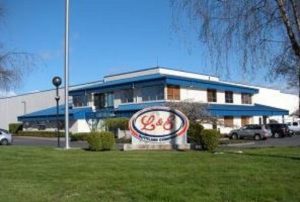 Kombucha is another functional beverage L&E Bottling distributes. This fermented tea naturally contains probiotics and healthy organic acids. "It's a huge growing category," Kennedy says. The key elements of kombucha products help with detoxification, probiotics and blood flow, as well as fighting bacteria.
Health-Ade Kombucha is the number one brand offered by L&E Bottling, in six different flavors. Nationally, Health-Ade is the fastest growing kombucha company. "They are the only kombucha that does their product in two and a half-gallon jars in very small batches," Kennedy says. "It gives a lot more purity to the process."
Clearly Kombucha is easy to drink because they use a filtered process so you don't see any of the cultures. "With heavy carbonation, it's got that extra bubble that people look for," Kennedy says. L&E Bottling carries six flavors of this light and refreshing kombucha. This is the one to buy if you are trying kombucha for the first time.
Puget Sound Kombucha is created purely without any additives or juices. L&E Bottling distributes four flavors of this Washington-based company's products. "A small family started it in their kitchen," says Kennedy. "I like their story behind it."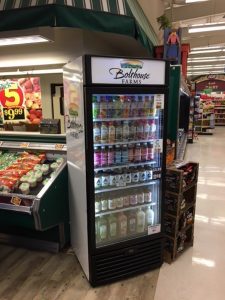 For Kennedy, a product's story is important. "No matter the product, if there is a company that is local, that is enticing because of the local ties. That is what we have built the company on, especially in Lewis County since 1945. Building those relationships is key to any businesses success."
L&E Bottling Company has been owned and operated by the Charneski Family since 1945. Today they operate with 75 employees and a 60,000 square foot warehouse in Tumwater. They distribute Pepsi products and more than a dozen other major products.
Their healthy, functional beverages can be found at Providence Centralia Hospital, Morton General Hospital and many local retailers such as Brenda's Country Market in Onalaska, Cedar Village IGA in Winlock, and Smith and Sons Grocery in Mossyrock. Centralia College vending machines also sell both kombucha products and smoothies.
L&E Bottling is making it simpler for consumers to pick beverages that are nutritionally better with more available options. "It's continuing to grow and we are looking for the right brands for our consumers," says Kennedy. "We are looking for more brands in general that give more options to our customers."
Next time you are out and about, remember to stop by your locally owned retailer and pick up some healthy and functional beverages. You and your family are sure to enjoy these new flavors and your body will thank you too.
Sponsored