L&E Bottling Company, Inc. has been owned and operated by the Charneski family since 1945. The company's history with soft drinks started over two decades earlier with Forget Me Not Products, founded in the late 1920s by Raymond de Moise. Forget Me Not Products were originally a distributor of beer, ice, ice cream and soft drinks. Raymond's son Louie and his wife Ellen De Moise became the sole owners of L&E Bottling, named after their own initials, in the mid-1930s.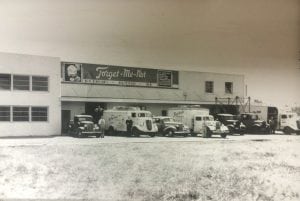 As a small family business, Louie set out each morning in his truck to hand deliver bottles of their own drink line, L&E Flavors. Ellen kept the books and took orders until the evening when Louis returned to clean and refill the empty bottles for the next day's delivery. In the late 1930s, L&E obtained the regional Pepsi franchise and produced Pepsi, 7-Up, Nesbitt Orange and Hires Root Beer out of their 5,000 square foot warehouse in Chehalis, Washington
Four generations later L&E Bottling is still a local, family-owned company with deep roots to the community in Lewis County. The distribution facility is now located in Tumwater, but half of the 80 employees that work for the Charneski family at L&E Bottling and a large number of the 200+ employees at the production facility PNB are Lewis County residents.
The company has a fleet of 70 vehicles delivering Pepsi products, Dr. Pepper brands and over a dozen other major products to stores and businesses throughout Lewis County. L&E is a full-service provider of all Pepsi products from the beverages themselves to coolers to chill them and fountains to serve them. Visit nearly any store or restaurant in Lewis County and you will be able to purchase a beverage distributed by L&E Bottling Company.
Today, L&E Bottling carries more than 800 products from Gatorade to brewed coffee. As the company has grown, so has their commitment to the communities that fostered their success. L&E Bottling proudly sponsors many local businesses in Lewis County including the Northwest Sports Hub. The facility, located in Historic Borst Park, includes basketball courts and state-of-the-art turf for little league and youth soccer games and is truly a hub of community activity.
Once known as the Chehalis Outdoor Community Pool, the new Gail and Carolyn Shaw Aquatics Center is another beneficiary of the Charneski family's generosity. L&E Bottling, along with other local sponsors, joined together with the Chehalis Activators in a renovation of the aquatic center which opened its waterslides, spray park and swimming pool in the summer of 2014 to the delight of local children and families. Since 1959, generations of kids have enjoyed swimming in the local public pool. Thanks to the support of local partners such as L&E Bottling, it will continue to be a kids' favorite in the Chehalis community for years to come.
The Charneski family has been involved in the Chehalis Activators Club since its inception over 40 years ago. According to Tim Sayler, Activators Club member and the President of the Chehalis Foundation, "L&E Bottling and the Charneski family have been instrumental in supporting our efforts in the community by sponsoring our annual golf tournament and raising money for junior high athletics since the 1970s."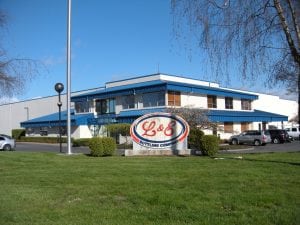 L&E Bottling Company's commitment to its roots does not stop with youth sports and recreation. Yearly scholarships to local high schools and Centralia Community College are offered to help students with the cost of college tuition.
Building and strengthening the community is a core value of the Charneski family and their company. It was in the beginning with Louie and Ellen and remains true today.
In today's world of online commerce and national chains, it is unique to find a company putting money back into the same community where it all began. L&E Bottling is a local company, owned and operated by local workers and contributing to their own economy each day.
L&E Bottling has expanded their beverage offerings to include office coffee service and has added snack vending to complement their beverage business.
For more information on L&E Bottling Company visit their website at www.olympiapepsi.com.