It's what they call in the restaurant business the slow time, the period between breakfast and lunch. But inside the kitchen on this day there is a constant buzz of activity. There's still a couple of late breakfast orders that must be wrapped up and then it's time to check on the clam chowder, which is one of the most popular items to order at Sweet Inspirations in historic downtown Chehalis.
This is where owner, Patty Harris, holds court. On Fridays, she returns to the kitchen in the morning and waitresses tables in the afternoon.
"I love this," she says, when asked what is the best part about being a successful restaurant owner.
"It's a lot of work," Patty says, adding that work is good as long as you like what you're doing. "I confess I always wanted to own a restaurant."
Everyone cooks, to varying degrees. Therefore, the most newly opened businesses in America are restaurants. Sadly, industry statistics show that about six out of 10 new restaurants close within a couple of years of opening.
"A lot of people aren't willing to work as hard as they need, thinking they will open and everything will take care of itself," she adds.
So after years of cooking at other restaurants, Patty felt strongly that she had the right recipe of hard work and dedication, and she bought Sweet Inspirations 10 years ago. The restaurant has been open in Chehalis for 38 years, but she doesn't know how the restaurant got its name.
"Kind of sounds like a bakery," she agrees. And an important part of its business is the bakery, where items are made from scratch daily.
The business became so successful that earlier this year Patty moved across Market Boulevard, almost doubling the number of seats her family diner fills six days a week. The new and improved Sweet Inspirations has about 100 seats, compared with the 60 of the old location.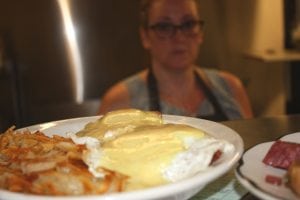 It turns out, she needs every one of those seats, especially during breakfast and at lunch. It is the ideal place to eat, talk or even just hang out. The restaurant has that kind of relaxed, cozy feel to it. The booths are private and the tables generally have groups of people having casual get-togethers. It's one of those places where everything on the menu is fresh and locally sourced, right down to the potatoes that are peeled every morning.
She points to the salads that are served, which she says are "freshly cut," and that makes a difference to diners.
"They taste so much better that way," she says.
Also, Sweet Inspirations is not like the chain restaurants where so many menu items arrive already prepared and then get tossed into a microwave.
"We do things here from scratch," Patty explains, clearly pleased with the final result.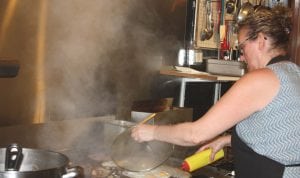 Besides the big pot of chowder sitting on one of the stoves, which is finished off every time it is offered, she points out with pride that her 10-person staff knows and understands how all of the items on the extensive menu are prepared. And for regulars, the wait staff knows what to suggest, depending on the customer's mood.
The meat, which comes from Reichert's Choice Meats in Centralia, is locally sourced, and is cut and trimmed to give the best result.
Patty is working today with Alberta Huff, her best friend for 32 years. The two are so much in sync that they can probably finish each other's sentences, if they tried.
"Bert is the best," Patty says of her friend. And she feels that way about most of the staff, many of who are family members. Married for 22 years to John, they have two daughters and three granddaughters.
"There is still time to get a grandson," Patty laughs.
A native of the Washington coastal village of Queets, she gravitated to Chehalis because she liked the feeling of the town. Clearly, the friendly vibe worked for her as she busies herself with checking some other dishes for the expected packed lunch crowd. She believes in serving tasty quality and generous portions for the money. Perhaps the thing that draws the most compliments is the bakery. Yes, everything is baked from scratch.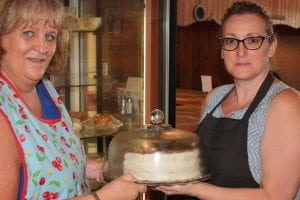 Both Patty and Bert smile when asked which dessert is the best. Almost in unison they report that it's the carrot cake. Hands down. In fact, each one assures that it's "to die for."
To a lowly writer who has been bad in his dieting the past few months, this was a painful exclamation point at the end of the first week of the much-needed diet.
Forlornly, the writer promises to return once the scales have been corrected to sample that To-Die-For Carrot Cake.
Even hardworking owners like to get out of the kitchen, even if it's only for one meal. When that happens, Patty heads to Ramblin Jacks Rib Eye, which is close to her home in Winlock.
But enough talk. It's time to get back to work to make sure everything is prepared just right for the lunch crowd.
Sweet Inspirations
514 N Market Blvd
Chehalis, WA 98532
360-748-7102