When attorney Janean Parker and realtor Tony Citrhyn first met, they had no idea they would soon be starting an emu farm in Lewis County. The couple met on eHarmony, and when they decided to buy a small farm together, they chose Lewis County for the simple reason that it was nearly equidistant between their respective homes in University Place and Vancouver.
Tony researched various types of farming. He was attracted to raising emus because it seemed profitable and suitable for small acreage. While it is a niche without too much competition, there were also nearby emu ranchers to help mentor them through the startup.
3 Feathers Emu Ranch started with two adult pairs and six chicks in 2009. The nine acre ranch is now home to about 70 birds, of which 20 are kept for breeding. Their goal is to raise 80 to 100 chicks a year.
Three Feathers Emu Products
The emus are raised primarily for their fat, which is rendered and then purified into a high-quality emollient and a small range of premium cosmetics. Parker and Citrhyn deliver the harvested fat to the American Emu Association, where it is refined in hygienic conditions, tested for purity and certified.
Citrhyn points out that their products have the certification seal on each bottle. "We hand bottle our oils here after they are purified," he explains, "and we need to have permission from the AEA to use this seal." Many emu products available online or in stores contain a base of other oils and ingredients, with only a small percentage of emu oil. "Our signature emollient is 100% purified oil," says Citrhyn, "so you know you're paying for the real thing."
Pure emu oil soaks into the skin immediately and does not leave a greasy or waxy residue. Tony says he uses a few drops every day on his hands and scalp. "I stood outside all day in 100 degree weather grilling emu burgers," says Tony, referring to their recent annual harvest festival, "and my scalp didn't get sunburned. I'm sure it was the emu oil."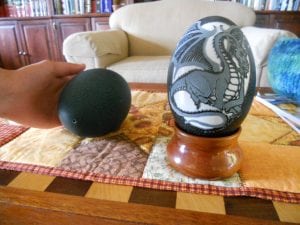 3 Feathers also harvests the meat, which they mainly sell to close friends or keep for their two annual events. "There's not a lot of meat on them," points out Parker. "They have no breast meat and their wings are only a few inches long. So all of the meat is primarily in their long thighs." The farm also sells emu feathers and blown-out eggs to local crafters. The feathers have two plumes on each shaft, which is what contributes to the emu's curly, bouncy coat. The eggs are large, about six to seven inches long, and a deep blue-green color. This year is the first year that they will also be having the hides turned into emu leather.
What are Emus Like?
"Emus are very shy, but also very curious," explains Parker as we head out to the paddocks. "And they really like shiny objects." Although they are a little skittish, the emus don't seem shy to me—they follow us along the fence line and the younger birds—already four to five feet high—poke their heads through the fence to be petted. They also peck at my pocket zipper, my bracelet and my camera lens. Then the two goats, Jake and J.J., got in on the action. Jake gave me some face time affection and chewed on my camera strap, while J.J. snuck up on me from behind.
Emily Parker, 17, is the family's bird whisperer. The mating emus respond to her gentle touch with cuddles and preening, and seem to enjoy her company. Female emus use a hollow cavity in their throat and chest to make a loud thumping sound like a bass drum; males grunt and growl. The entire compound sounds like a scene from The Jungle Book as we walk by.
In addition to the emus and two lively goats, the farm is home to chickens, cows, a sheep and two dogs. Parker and Citrhyn have also been expanding their garden area and are now mulling over the possibility of adding a few pigs as well.
Abby Flies the Coop
"When we first got our breeding pairs, we named the birds alphabetically," says Parker. "I thought that would help us keep things straight. So our first pair was Abby and Aaron, and then Bennie and Beebee and so on." However, it seems Abby did not take to Aaron at all and she jumped over a six-foot fence to get away from him. So Aaron is now cuddling with Promise (from the 'P' couple) and they're getting along just fine. "My alphabetical system did not work out very well," laughs Parker.
Eggs hatch in the spring and birds are harvested at about 18 months. Currently the farm has five-month-old birds from spring 2016, and 16-month-old birds that are nearly ready for harvest. Each breeding couple has its own stall around the perimeter of the emu compound, and the younger birds are kept in large runs in the center. "This way, if predators scale the outside fence, they'll have to deal with the parents first," says Citrhyn.
A frightened emu can deliver a quite a kick, as Citrhyn and Parker learned early on. Although the birds are friendly, they are also easily startled. "When we first built these enclosures, we were trying to move some birds to their new pen by simply herding them gently along," explains Parker. "They did not like that at all. We finally gave up and returned to the house, bruised, scratched and with torn clothes from their talons. Clearly we needed a better plan."
The farm hosts a couple events each year. "The spring festival is so much fun because that's when we have babies," says Parker. In addition to emu burgers and emu meatballs, the couple have emu-themed activities for kids and do tours of the farm. Sign up for the email newsletter to receive news and announcements about upcoming events.
3 Feathers products are available for sale via the website, and Parker also plans to make the products available on Amazon as well.
3 Feathers Emu Ranch
722 Deep Creek Road
Chehalis, WA
360-748-3031
Facebook: 3 Feathers Emu Ranch & Farm