Wrestlers from W.F. West were well represented at the 2016 state championship tournament as five Bearcats placed at Mat Classic XXVIII with juniors Damon Thomas and Hunter Arredondo each advancing to title matches.
The runner-up performances from Thomas and Arredondo combined with fellow junior Michael Anderson's third-place finish helped W.F. West finish fifth overall as a team in the 2A classification.
The Bearcars finished with 84 points. Toppenish (154 points) claimed the team championship. Orting (143.5), Clarkston (99) and Othello (93) rounded out the top four.
It marks the second consecutive season W.F. West has posted a top 10 team finish and the highest placing for the squad since 2010 when the team finished second.
Thomas needed overtime to put away White River's Nathan Moore, 7-6, in the semifinals of the 138-pound division before falling by a single point to East Valley (Spokane) senior Logan Sundheim, a state runner-up last season at 126 pounds, in the finals, 12-11.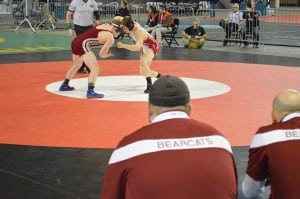 Despite failing to achieve his ultimate goal of winning a state title, Thomas accomplished a rare feat by simply placing at this year's tournament, becoming a three-time state placer in three different school classifications.
Thomas, who transferred to W.F. West this year, posted a sixth-place finish at the 4A tournament as a freshman and a third-place finish in the 3A level as a sophomore while attending Mountain View High School.
While an appearance by Thomas in the championship match was expected by many, Arredondo's trip to the title match in the 285-pound division was one of the tournament's bigger surprises.
Arredondo, who entered the tournament as the region's third-seeded heavyweight, sat behind senior teammate Cole Miller, who was also a state participant as the region's second seed, on the Bearcats depth chart throughout the season.
"I thought for sure we'd have two in the finals," said W.F. West coach Jamie Rakevich. "They weren't the two I thought we'd get in, but we got two. I thought Damon would be there. The (heavyweight) bracket lined up the way it did and (Arredondo) took advantage of it. I'm proud of him. He's matured a lot this year."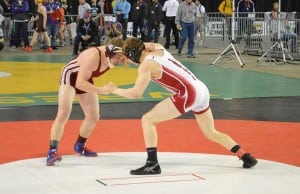 Arredondo posted three straight upsets, including a 6-4 overtime victory over Erik Lukner of Sedro Woolley in the semifinals before losing via pin (1:15) to defending state champion and national ranked Hunter Mullins of Orting in the finals.
The Bearcats nearly had a third wrestler advance to a championship round with Anderson, who entered the state tournament as the 2A's top-ranked wrestler in the 152-pound classification, according to Washingtonwrestlingreport.net.
Anderson lost to eventual state champion Drake Ferguson of West Valley (Spokane) in a nail-biting semifinal match which saw Ferguson pull out a slim 9-8 victory.
Ferguson would go on to defeat Blaine's Caleb Frey, 7-3, in the title match, while Anderson was able to rebound from his loss to claim third place with a 3-1 victory over Max Henry-Nelson of Franklin Pierce.
"I came out with a win, that's all that matters," said Anderson, a junior. "Honestly, I was pretty down on myself after my (semi-final) match. My coaches, my teammates, and my parents all helped me back up and back to the way I've been wrestling. This definitely gets me motivated for next year."
Anderson is now a three-time state placer, having finished eighth in 126 as a freshman and fourth in 132 as a sophomore.
"You couldn't ask for a better kid," Rakevich said about Anderson. "Hopefully next year he comes back with a fire in his gut and makes another run."
The Bearcats also received sixth-place finishes from sophomore Roehre Cunningham (106 pounds) and senior Michael Matagi (145).
Cunningham won his first-round match, then lost in the quarterfinals, 7-3, to Clarkston senior Dalton Port, who went on to win the state champion, before winning a pair of loser-out matches.
Matagi became a back-to-back state placer in the 145-pound division. A year after finishing fourth, Matagi joined Thomas, Arredondo and Anderson as state semifinalists by winning his first two matches of the tournament before capturing sixth place.
1B/2B State Tournament
Junior Dalton Yoder notched his second consecutive second place in the 220-pound classification in the 1B/2B state tournament, losing to three-time state champion Mason McKenzie of Darrington in the finals, while Adna freshman Matthew Slape collected fourth at 132 pounds.