On December 12, more than just vehicles will roll down the streets of Centralia.
A family favorite, the Lighted Tractor Parade is in its sixth year. The parade takes place on December 12 and begins at 6:00 pm. This event, hosted by the Centralia Downtown Association, is quickly gathering momentum.
Co-chair of the event, Amanda McDougall, says, "Our first year there were thirteen entries, five of which I helped decorate." Now, imagine what the event looks like, six years later, with more than 8,000 people crowding Centralia's streets to get a viewing spot.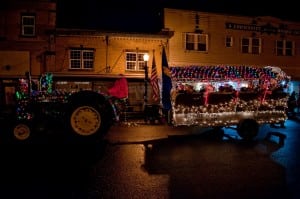 The Lighted Tractor parade is truly unique. Entrants work for months preparing their displays, which include modern and vintage tractors, cars, floats, semi-trucks, and military vehicles. The parade is a celebration of the Lewis County's agricultural roots and the Hub City's history with all things motor.
Amanda shares, "One of my favorite floats each year is done by ABATE. It carries 30-40 motorcycles and Santa. That's one you definitely have to see." Amanda adds that the group is also a dedicated volunteer force when it comes to helping the parade get in running order.
Considering the growing popularity, it is important to arrive early to find parking. Also, the law offices of Althauser Rayan and Abbarno, LLP will be serving free, hot beverages outside their office on Magnolia Street before the parade. Amanda also recommends arriving early to browse the shops that line downtown Centralia.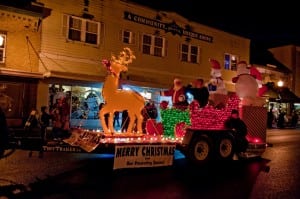 "Another thing that I think is a good idea is to plan to have dinner or dessert after the parade at one of the restaurants downtown. That way you can avoid traffic leaving the parade," Amanda suggests. With everything from pizza to mediterranean-inspired cuisine, there's something downtown for every appetite. My family chooses Holley's Place, believing it's never too cold for frozen yogurt.
In addition to seeing really cool displays of motor machines with lights, every entry in the parade is announced live by Peter Abbarno. Find a spot along the parade route close to O'Blarney's to clearly hear the announcements for each entry.
Another important person to the parade is Dave King, founder of the King Agriculture Museum and parade participant since its inception. Dave is originally from Onalaska.  His connection to growing up on a farm inspired him to start the museum. The parade is the perfect opportunity to share some of Lewis County's agricultural past and present with the community. Dave says, "For me the parade is about content and entertaining people."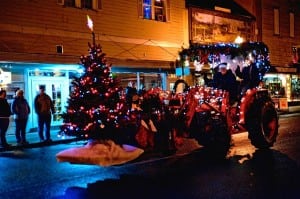 Dave shares that seeing all the entries, especially the tractors, all lighted up and paraded through downtown Centralia is one of his favorite parts of the year. He tries to design and do something a little different with his entry each year. "I want people to ask, 'What's Dave going to bring this year?'"
Dave says that his 2015 entry is a secret, although he did mention that the local band, Destination Constellation, will be walking with his entry. The band is self-described as "rock 'n' roll with variety."
Organizing a night parade of this magnitude could be full of challenges, but parade organizers are not daunted by record cold temperatures or a tight time schedule. "When it's all ready and the parade starts rolling, it's dark, the lights are on, and everybody is excited. It's a lot of fun," summarizes Amanda.
Parade entries are accepted until Friday, December 11 at 6:00 p.m. Amanda explains that this deadline gives the parade organizers time to make sure everything is ready to go in time for the big event. If you are interested in being a part of the parade, you can find the entry form at parade.downtowncentralia.org. For up to date notifications about the parade, check out the Lighted Tractor Parade Facebook event page.
Be sure to add the Lighted Tractor Parade to your holiday schedule on December 12.  Oh, and the Grand Marshal for this year's parade? None other than Dave King himself.