Not only are Christian Peters and Nolan Wasson returning starters, go-to players who received all-league honors as juniors last year on the Centralia High School's boys basketball team, but these two seniors with game are also legacy, second generation Tigers. Both their dads not only played for Centralia High School, they also played for Ron Brown, the Tigers coach since 1961.
"I grew up hearing my dad talk about Coach Brown," Peters said.
Bob Peters, Christian's dad, played for Coach Brown in the late 70s and was on the Tigers' 1979 state championship team. Nolan's dad, Kevin Wasson, played for Coach Brown in the mid 1980s.
Bob Peters scored eight points in Centralia's 58-50 win against Cleveland in the state championship game in 1979.
"I've heard about that championship game from both my coach and my dad," Christian said.
Now, 36 years later, Coach Brown is hoping to get back to the state playoffs with another Peters in the lineup. This year's Tigers have some similarities with that 1979 team.
"They were very under rated and they weren't supposed to win it," Christian said. "They were the underdogs and they played very well. That's how I kind of view us."
These Tigers aren't the fastest. And, with just one player taller than 6-foot-2, they're certainly not the tallest.
"But we play very hard and that's the very thing they did," said Christian, a two-sport star who has accepted a baseball scholarship to the University of Portland.
Hearing their dads talk about playing in the state playoffs stokes the fire for Nolan and Christian.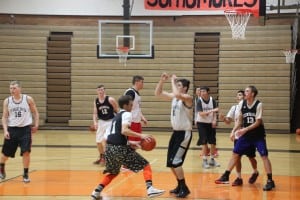 "Yeah, it's definitely a motivational tool," said Christian, a 6-foot-1 forward.
The common denominator is Tiger basketball and Coach Brown.
"My dad has some great memories," said Nolan, a 6-foot-2 center. "He tells me a lot about it. He loves Ron – everybody does. Three of my uncles played for him."
There's a sense that what they do on the basketball court matters, that they're part of a community that's watching and cares.
"First off, it gives me respect for Coach Brown," Nolan said about the impact of hearing his dad's stories about Tiger basketball. "I want to do well for this community because almost everyone who has played for Centralia played for him. We want to get a banner. That definitely gets me going."
Besides the two second-generation Tigers back for another year, the third returning starter is Hodges Bailey. But unlike Peters and Wasson, Bailey was new to Centralia last year, moving with his family from Boise, Idaho. It didn't take Bailey long to fit in. The 6-foot guard led the Tigers in scoring, averaging 20 points a game. He scored a season-high 40 points, missing a 3-pointer at the buzzer that would have given him a school record for most points in a game.
Last year, Centralia got off to a slow start but finished strong as they learned to play together and reached the final 16 in the playoffs.
"I think we'll pick up where we left off," Bailey said. "We already know what to expect from each other and we're just hitting the road running pretty much."
With no dominate, tall player in the middle to hang their offense on, the Tigers will push the ball up the court, looking for the fast break lay-ins.
"We're definitely up tempo," Bailey said. "You look around and you see that we don't have anyone big. So, we're out running. We're more athletic and quicker. That's the type of team we are."
Over the years, Bailey has developed this shooter's mentality. He's used to the role.
"I grew up as the youngest of four so I've just always been the underdog.  I've always had this chip on my shoulder and had this aggressive mentality. I take what no one else gives you," said Bailey.
While the Tigers have some experienced talent returning, they're missing one thing – depth. Brown has already told his starting five they better be ready to play a lot.
"Right now we haven't found a sixth man," Brown said. "I've already said no fouls, no sickness, no anything. You better be ready to play for 32 minutes."
Brown won't be able to use a two-platoon offense, subbing five guys at a time to keep fresh legs on the floor. But he knows he's got a solid starting five that's going to be able to put lots of points on the scoreboard.
"They're going to be fun," Brown said. "They're going to be entertaining."