The holidays are here, and nothing says Christmas like the scent of evergreens. Grab the family and a handsaw and hop in the truck to select the centerpiece of your home this holiday season. Decorate your home and heart this year with a tree found locally. Here is the 2023 guide to Christmas Tree Farms near Centralia, Chehalis and throughout Lewis County.
Aldrich Berry Farm & Nursery Christmas Trees
190 Aldrich Road, Mossyrock
360.983.3138
From November 22 to December 17, Aldrich Berry Farm & Nursery offers various pre-cut trees, from premium stunners to "Charley Browns" and living Christmas trees with a variety of price points. Also, discover festive wreaths and holiday décor. Are you looking for a larger Christmas tree this year? Find an assortment of 8 to 14-foot trees to cut or already cut and individually priced. For those pre-planners, call and make an appointment now, pick out your perfect tree, leave a deposit and set a time to pick it up when you are ready to decorate for the holidays.  
Mistletoe Tree Farm
268 Sterns Road, Chehalis
It's all about the traditional Christmas experience at Mistletoe Tree Farm in Chehalis. Find U-cut and pre-cut trees at this charming farm. Open the day after Thanksgiving until December 3 from 9 a.m. to 5 p.m., bring a handsaw (no chainsaws) or use one of theirs, and cut down a stunning Noble, Nordmann, Fraser or Douglas fir. Warm up afterward with hot chocolate or cider when available and keep an eye out for the big man himself, Santa!
K and E Tree Farm
182 Wepsala Road, Winlock
K and E Tree Farm is a lovely U-choose and they-cut Christmas Tree farm in Winlock. Find all sizes of Noble fir and Grand fir trees, along with stunning handmade wreaths. Opening on November 24 and continuing every Friday, Saturday and Sunday through the holiday season, bring the family and create memories from 10 a.m. to 4 p.m. Leashed dogs are allowed, provided you clean up after them. No chainsaws are permitted, and they accept cash, Visa and Mastercard.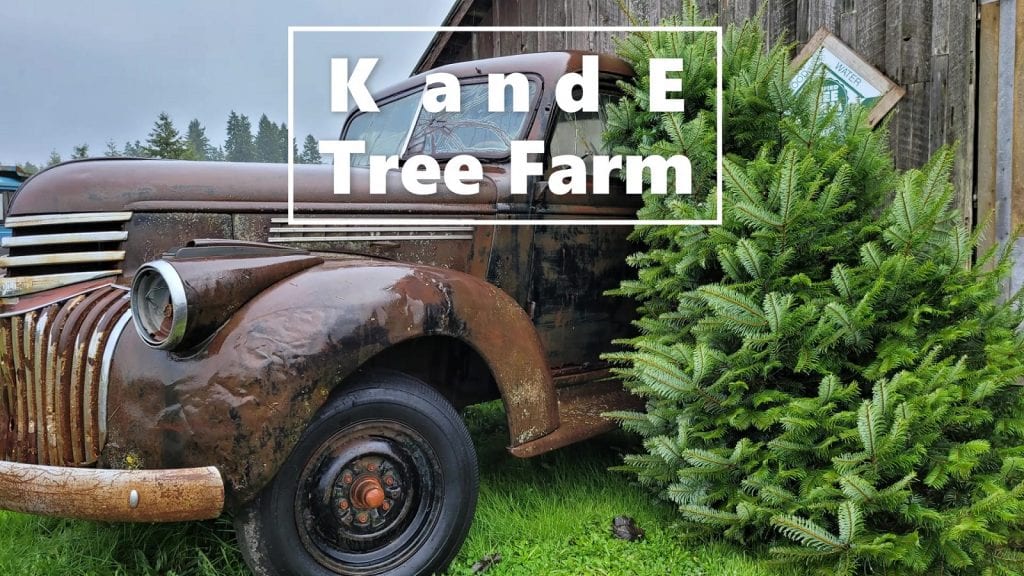 Christmas Valley Tree Farm
11540 183rd Avenue SW, Rochester
Head a bit north to Rochester's Christmas Valley Tree Farm for a wide selection of stunning trees. From November 17 to Christmas Eve, this quaint farm is open from 9 a.m. to 5 p.m. and offers a cute gift shop where you can buy festive holly and wreaths. They take cash or checks only.
Gifford Pinchot National Forest Christmas Tree Permit
For a real adventure, get a Gifford Pinchot National Forest Christmas Tree Permit and head out into the wild forests to find the perfect holiday tree. Douglas Firs are the most common trees found in the woods accessible this time of year. Season dates begin on November 10 until December 31, 2023, for a maximum of five trees per household. The price for the permit is $5, and remember to print it beforehand and bring it with you. Be sure to stay safe and read through all the guidelines and tips outlined online. Use this link to locate Forest Product Harvest Areas in the Gifford Pinchot National Forest.
Don't want to cut your own tree for Christmas this year? Several hometown businesses sell locally cut trees. Lincoln Creek Lumber in Centralia and Ace Hardware in Chehalis sell locally-grown trees along with everything you need to decorate your tree and home this holiday season. Kaija's Garden and Pet in Chehalis has live and cut Christmas trees, garlands and wreaths. Don't miss their extensive selection of Old World Christmas ornaments to adorn your holiday tree, or ask about flocking for that snowy touch.
Lewis County is home to several charming Christmas tree farms offering a variety of beautiful trees to choose from. Whether you're looking for a tall, slender tree or a cozy, full-bodied fir, you're sure to find the perfect tree at one of these farms.
Where's your favorite farm to find the perfect Christmas tree in Lewis County? Send us an email at submit@lewistalk.com and let us know!