The northwest spirit knows no season. Whether you come to Grays Harbor. with sunscreen and shades or rubber boots and a slicker, you're sure to enjoy yourself. While the last weeks of summer come and go, the ocean will continue to sing its siren song. The next time you gear up and hit the highway to the beach, remember to give yourself some extra time for a stop in historical Aberdeen and Hoquiam for a beer, a bite and maybe even a relaxing night. Thirsty? Here is where to get a beer in Hoquiam and Aberdeen.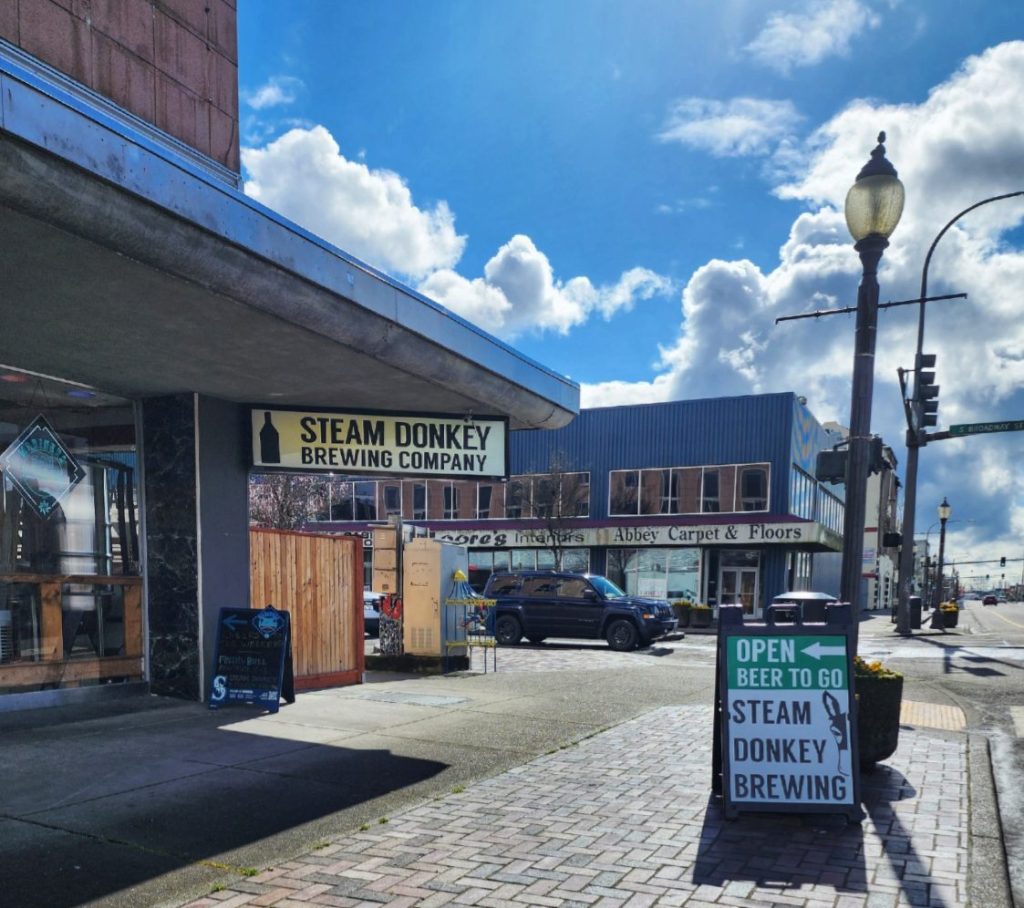 Where To Get a Beer in Aberdeen
Steam Donkey Brewing opened its doors in 2017, reviving Aberdeen's brewpub culture, an opportunity over 70 years in the making. They are unique in that they are female majority-owned and can boast a selection of all female-crafted brews in the making. Plus, they've got a great catchphrase, "It's your space, we just brew in it."
"I think we would describe Steam Donkey Brewing as a hyper-local, cozy brewery," confides co-owner Stefanie Bennett. "We have a small, 40-seat taproom, and a small, fenced beer garden, that is super welcoming and really feels like a place you want to meet up with friends at. It's cheerful, as is our staff, and our 3 BBL brewery consistently puts out great beers! There is something to be said for being locally focused. We distribute to harbor bars, restaurants and even the cinema, and we keep most of our product in Grays Harbor."
"Beer drinkers, more often than not, have a personal connection to the beer that they drink," adds Stefanie, "Our favorite brands become our connection to 'place'. When Steam Donkey opened, there had not been a brewery in Aberdeen in 70+ years. They opened with the hope that people would find a connection with local beer made in Grays Harbor.
Finch & Bull came about as a food solution for the brewery, as Steam Donkey did not have room for a kitchen. The food truck has a constant rotation of delicious pub food, some with a twist!
Right now, the menu has a few killer burgers, chicken wings, and rice bowls, which feature rotating protein options. "We also mix in some pub favorites, including the chicken snack basket and a grilled cheese, but truly nothing beats the OG with Cheese ground chuck burger and fries," shares Stefanie.
Another great stop in Aberdeen is Mount Olympus Brewing (MOB). Not only will you be able to enjoy a unique lineup of harbor-inspired brews like Come As You Are and Rhize and Rind, but also indulge in pub favorites like nachos, soft pretzels and a variety of savory sandwiches. Even your Lil' Mobsters, as they are so fondly called, will leave satisfied. This family-friendly, all-ages brew pub has ample parking to boot.
Where to Find Beer in Hoquiam
Hoquiam Brewing Co., like Steam Donkey Brewery, arrived in the community in 2017. Its first three beers, Hoquiam IPA, Boots & Shorts Blonde and Captain 12 Milk Stout, are still enjoyed to this day. They have an extensive menu to complement your draft, offering one-of-a-kind eats such as Roasted Beet Salad, Korean Flat Iron Steak and Taco Pizza.
New to the Brewery Community in Hoquiam is Red Cedar Pub, which opened just over a year ago. They offer both wine and beer and a variety of nachos, with future plans for an expanded menu in the future.
"We love dogs," shared Red Cedar Pub owner Nancy Dudley, "and have a very large pet-friendly beer garden where we host many events and musicians."
Red Cedar Pub is a great place to wind down from the week, or you can plan ahead to catch one of their live music performances featuring the best of the best local talent.
8th Street Ale House offers a great combination of fine dining and a comfortable vibe, offering 8th Street Ale, Galway Irish Red Irish Ale, Guinness and Coors Light on tap and to eat, pot roast, salmon and everything in between.
Where to Stay Near Aberdeen and Hoquiam
Want to stay the weekend and try a few breweries on a self-guided brewery and pub crawl? There are plenty of places to stay near Aberdeen and Hoquiam.
Keep things classy at the A Harbor View Inn Bed and Breakfast. This beautiful 1905 estate presents the perfect balance of history and modern amenities. Every room offers a view of the water as the property overlooks the Wishkah River, Chehalis River, Grays Harbor and the city of Aberdeen and includes a full breakfast served each morning on the sun porch.
Looking for a more down-to-earth stay? The Shiny Motel may be the perfect fit for an affordable, no-fuss night in Hoquiam.
Finally, don't forget about Aberdeen's Best Western Plus for a familiar and welcoming experience.
With so many eclectic breweries and pubs to sample a beer and savor a bite, Aberdeen and Hoquiam are a can't-miss stop on your next beach getaway. Stop in for the day, or stay the night. Either way, stay a while. It will be worth it.
Sponsored