As a recent graduate of Adna Middle High School class of 2023, Natalie Loose is proud to be part of the to have started FFA six years ago. As the very first class in Adna to go from seventh grade – the beginning of the program, to graduation, she lives to serve and now she will act as State Reporter — a first for the Adna program.
Adna's FFA chapter was started by teacher Jenny Parker. All the current and past students and the current advisor, Molly Majors, appreciate her hard work and diligence.
Natalie Loose Becomes First Ever FFA State Reporter from Adna
As the FFA District Vice President, Natalie is now the first ever Adna Washington State Reporter. In October, Natalie was one of six chosen to represent Washington in Indianapolis at the 96th National FFA Convention and Expo. The six state officers were selected on May 13 during the Washington FFA Convention in Kennewick, with 2,334 members in attendance. "This program is an extremely young program," says Majors. "We are the 354th chapter in the state. Having Natalie representing Adna is a huge accomplishment for not only Natalie but also Adna, as there are a lot of other chapters that are more established than we are."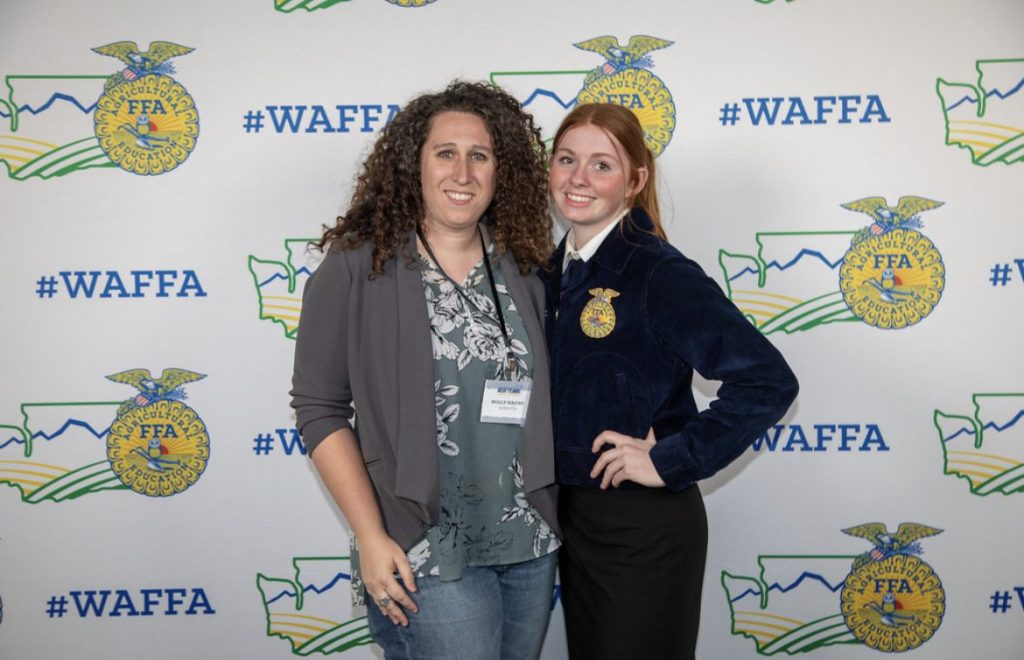 The incoming team has a "heart of service," and Natalie is extremely excited to take on the role of State Reporter. She has already made significant sacrifices by taking a year to serve before going to college. No stranger to demanding work, Natalie grew up working on her family's hay farm. With a long-term goal to attend Washington State University and become a veterinarian, Natalie is on her way to achieving all her dreams.
Those looking to be an FFA officer do not just get to pick the position; the commitment is considerable. Student Delegates decide what position the candidate is fit for, and applicants must prepare a two-and-a-half-minute speech. A committee scores the speeches during the convention. Natalie's speech was on The FFA motto — Learning to Do, Doing to Learn, Earning to Live, Living to Serve.
FFA Vision: Growing Leaders, Building Communities, Strengthening Agriculture
Natalie is a perfect example of both the FFA motto and vision. "She is a leader," says Majors. "I have enjoyed watching her grow. She is the one making sure everyone is included and finds their home in FFA."
Natalie is a triple-threat athlete, like her four siblings playing soccer, basketball, and softball. As a triplet, the trio of siblings, including Clayton and Brooklyn, graduated this year. Her older twin brothers, Elmer and Christian, graduated from Adna in 2019.
Most who live in rural America know about FFA. However, most people don't know they have officially changed their name to The National FFA Organization. The organization has become very inclusive and is not just for "Future Farmers." Whatever your interests are, there are many ways to participate in Washington FFA. If your pursuits are in robotics, you can work on robots that help with milking or other farming tasks. If computers are your thing, you can work on different websites and programs. Marketing and social media is another way to get involved. FFA has something for everyone.
The FFA Code of Ethics

FFA members like Natalie Loose always conduct themselves to be a credit to their organization, chapter, school, community, and family. They pledge to:
Develop potential for premier leadership, personal growth, and career success.
Make a positive difference in the lives of others.
Dress neatly and appropriately for the occasion.
Respect the rights of others and their property.
Be courteous, honest, and fair with others.
Communicate in an appropriate, purposeful, and positive manner.
Demonstrate good sportsmanship by being modest in winning and generous in defeat.
Make myself aware of FFA programs and activities and be an active participant.
Conduct and value a supervised agricultural experience (SAE) program.
Strive to establish and enhance my skills through agricultural education to enter a successful career.
Appreciate and promote diversity in our organization.
FFA is not just cows and plows. They are leaders, achievers, learners, servers, teams, and dreams. This program builds Lewis County's future by teaching the skills and providing the tools to the future leaders of America. FFA programs teach young people to work as a team, respect others, be honest, and, most importantly, be kind and inclusive. The FFA code of ethics can be used in all aspects of life.
Special thanks to the community of Adna for helping to grow the FFA Program, to Jenny Parker for her willingness to create the Adna FFA Chapter and to Molly Majors for continuing to lead the future leaders of Lewis County.