Since 2009, Julie Pendleton has worked tirelessly to continue her late father's dream while operating and owning Dick's Brewing Company. With less than 25% of breweries owned by women in the U.S., Pendleton knows the hard work and dedication it takes to make it in this industry. As a woman in brewing, she's faced many challenges but always met them with positivity and her family's support. That's why Dick's Brewing Company paid tribute to the matriarch of the Young family, Dick's mother, June, with a new brew called Hey June. Don't miss your chance to try Hey June while it's still on tap at both the brewery and NW Sausage & Deli.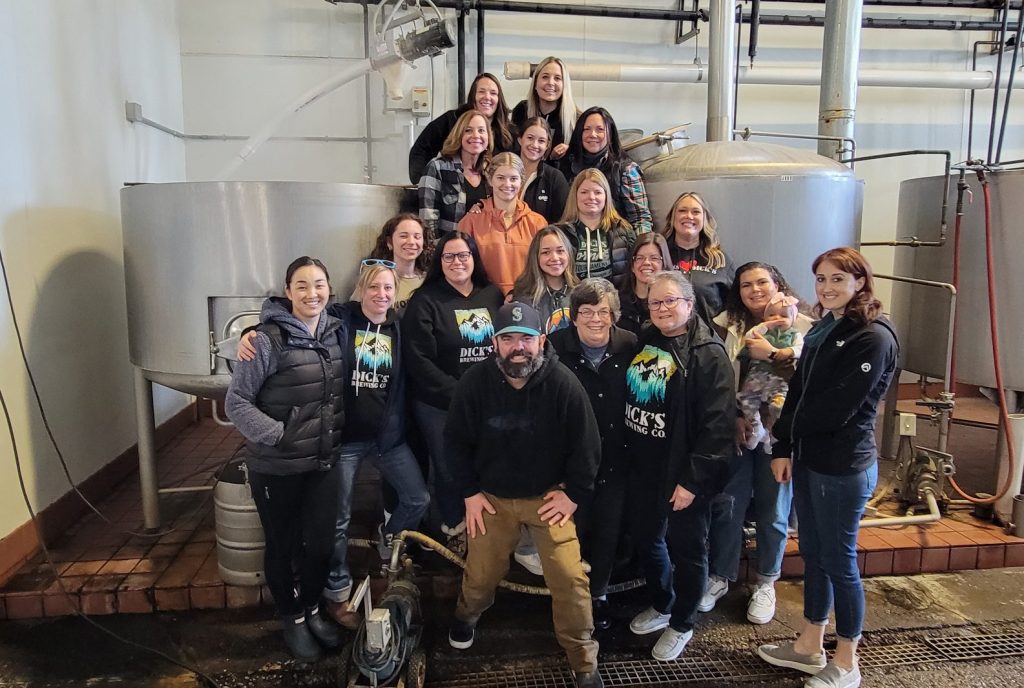 Dick's Brewing Company Celebrates International Women's Collaboration Brew Day
With International Women's Day on March 8, the recognition of women also coincides with International Women's Collaboration Brew Day. The worldwide annual event has been celebrated by Dick's Brewing Company for the last decade. When a friend suggested they honor 93-year-old Grandma June this year with a beer named in her honor, Pendleton jumped at the idea.
"We do it every year, and this time, naming the beer after grandma made it more special and fun," says Pendleton. "She always supported my dad throughout his life and now me."
"For International Women's Collaboration Brew Day, we invite all the women staff from the deli and the brewery to come and help us brew," shares Pendleton. "It's hands-on, with everyone taking turns scooping out the grain and measuring the malt, adding the hops and helping to clean."
The brew day is celebrated on a Sunday so that all of the women employees at Dick's and the deli can participate in the brewing process, as well as extended family, including Grandma June.
Outside of the female employees and event volunteers, the women in Julie and her husband Dave's families are also invited to participate. "We've expanded it a bit more than just the staff but family too who are involved," says Pendleton. "I enjoy including all the influential women in my life. It makes the day more meaningful."
Pendleton and all the staff at Dick's honored Grandma June during the new beer release at the brewery in April, and many of her family and friends came to celebrate with her. While June has always supported the brewery, there was some confusion as to what the beer was honoring. "Grandma didn't understand at first. She thought we named it because of the month June," says Pendleton. "She couldn't figure out why all her friends were there. She was tickled when she figured it out."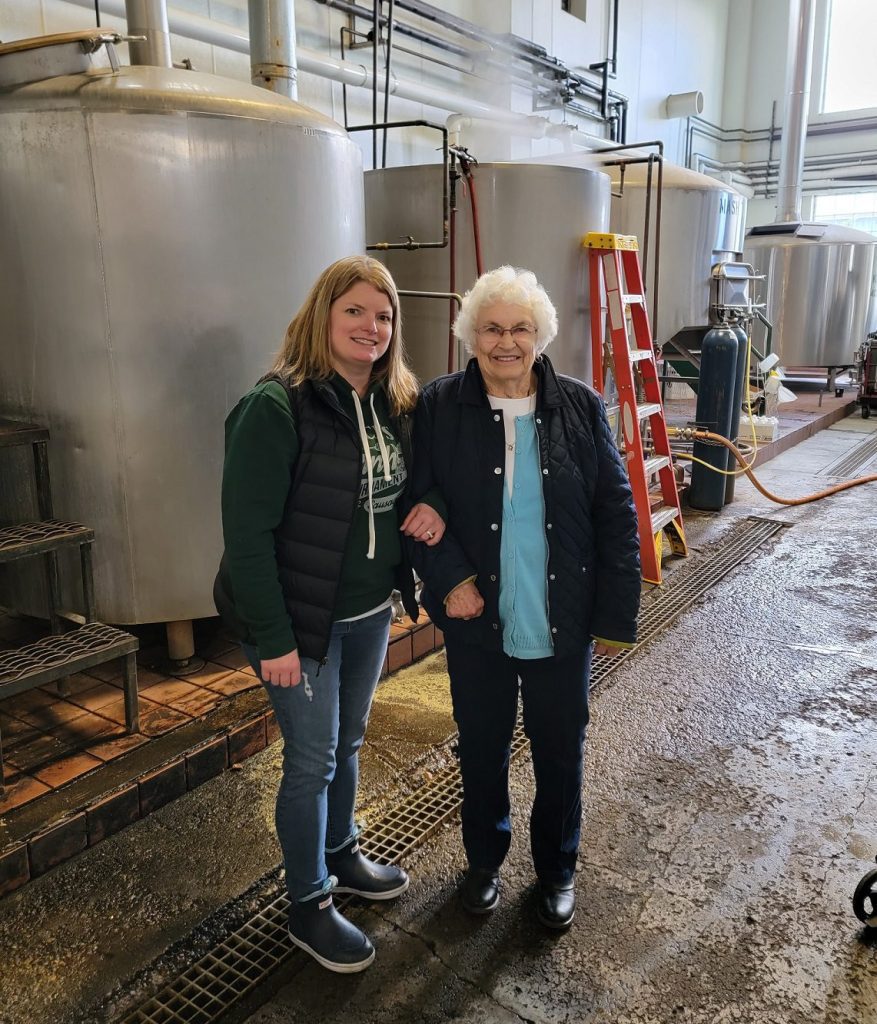 Try a Hoppy Pale Ale With Hey June at Dick's Brewing Company
Hey June is a hoppy pale ale that most beer drinkers would enjoy. "It's a lighter beer with a hoppy bitterness and slightly malty flavor to it," says Pendleton. "It's a middle-of-the-road beer."
The feedback for Hey June so far has been overwhelmingly positive. "Customers love and enjoy it and keep ordering it," says Pendleton. "People come in and ask about the name Hey June, and then they say we have to try it because of grandma."
If you're at NW Sausage & Deli, Pendleton suggests trying Hey June with the Hot Pastrami, Cheeseburger or BLT. The sweet, malty flavors balanced with a hoppy bitterness pair well with the spicy, smokey and aromatic flavors of these popular menu items.
Women in Brewing at Dick's Brewing Company
With about three-quarters of the staff at Dick's women, including owner Julie Pendleton, the company is no stranger to the difficulties faced by women in the brewing business. Not only is Dick's Brewing Company providing Lewis and South Thurston Counties with fantastic beer and food, but they are also challenging the statistic of few women in brewing while providing a welcoming space for women and raising the visibility of women in the Washington beer scene.
As a woman who owns a brewery, Pendleton empowers the women around her to break the mold. "People tend to think brewing is a man's industry," she shares. "It's sometimes difficult to be taken seriously as a woman and looked at like you know what you are talking about. Although, it has definitely changed some and is more inclusive than it used to be, which is good. It's changing in the right direction."
"Women bring so much to the company," says Pendleton. "They have the energy, positive attitude, and ability to multitask. You have that go-get-em personality with our staff. They are willing to work in a team and work well with others. There's a lot of camaraderie with the staff, both men and women."
"We were brainstorming names for our women's brew when a friend mentioned we should pay tribute to Grandma June by naming the beer after her, and I knew that was what we had to do," says Pendleton. "It is very difficult to put into words my thoughts on Grandma. She is one in a million. Everyone who knows her only has wonderful things to say. Her generosity, positive attitude, selflessness and ambitious personality are unmatched. I love her welcoming character, stubbornness, and how active she still is, it has kept her young at heart, and I hope someday, I am just like her."
Hey June is still on tap at both the deli and the brewery until it runs out. Don't miss your chance to try it, and say cheers to Grandma June.
Dick's Brewing Company
3516 Galvin Road, Centralia
NW Sausage & Deli
5945 Prather Road SW, Centralia
Sponsored