If you look at the smiles of people stretching from Kelso all the way to Chehalis, odds are you've seen the beautiful handiwork of Wagner Orthodontics. In business since 1970, the practice has transformed thousands of lives, from straightening teeth to increasing confidence and improving the overall health and quality of life for those they serve. Behind every beaming smile is the expert craftsmanship of the Wagner Orthodontics legacy, a three generations-deep art form passed on from father to son.
Dr. Louis Wagner
The "founding father" of Wagner Orthodontics, Louis established the Chehalis office in 1970. After treating army personnel during the Vietnam War while stationed in Ft. Hood, Texas, the dentist decided to take his career in a new direction. Instead of treating adults and performing restorative dentistry, Louis wanted to shift his specialty to orthodontics, specifically with children, to help shape their developing teeth and mouth structures.
"Not only are you dealing with something in the mouth that is fixed or changing, but the kids are growing. You've got a different factor thrown in. You're not just straightening teeth — you're dealing with an individual that's growing and changing. It's always interesting," said Louis.
After becoming certified as an orthodontist at Oregon Health and Science University, Louis's next mission was to find a place to practice. While many patients in Southwest Washington were referred to Olympia, Louis quickly fell in love with the amenities of Lewis County, including ample hunting and fishing opportunities, as well as excellent schools, and laid down roots in Adna. The orthodontist began in a small office near the Chehalis Courthouse, but his practice quickly outgrew the space and officially moved into the Chehalis Professional Building off Market Boulevard in 1973, where the Wagner practice continues to grow and change with the generations.
Over the past 50 years as an orthodontist, Louis has seen many remarkable advancements in the field. Although individual appliances can now easily be crafted for each mouth and made to adapt as the teeth move, older methods involved hand-bending wires, which could be very time consuming and inefficient for a busy orthodontist. Embarrassing headgear has become mostly a thing of the past, and the invention of clear aligners has made straightening teeth discreet for teens and adults wanting to avoid metal brackets. With the advancements in computers, orthodontists can now get an instant 3D model of the mouth,  helping them personalize treatment plans. In addition to learning new technologies, Louis participates in several study groups alongside other orthodontists to grow his knowledge of the profession.
"Each case is different," said Louis. "Each individual is different. It's always something that's challenging."
Dr. Peter C. Wagner
After watching his father's satisfaction with the profession of orthodontics and observing the excellent work-life balance, Peter knew that he wanted to follow in his footsteps. As he dove into the career, Peter found his own passions within orthodontics and helping patients.
"Every mouth is a puzzle," said Peter. "You have to figure it out and fix it, even if it seems unfixable. Every once in a while, I see a case and think, 'How did those teeth ever get straight?'"
After graduating from Louis' alma mater at OHSU, Peter spent two years working alongside Louis, taking on new patients, and the elder Wagner closed out care with his long-time patients.
Although working alongside different generations of your family could lead to tension, differing ideas, and personal, non-work-related issues, Louis and his son Peter are proud to say that their work relationship was harmonious. They credit their easy-going family dynamic and similar educational background as the key to their success.
"There are different treatment philosophies. If I was trained differently, I would have to tell him how it was 'done right,'" joked Peter.
With an additional practice now established in Longview, the legacy of the Wagner family has spread even wider through countless patients. It's not uncommon for Peter, now retired, to come across former patients or his father's patients, who now have children or grandchildren being treated at Wagner Family Orthodontics. By assisting many patients in the region and even low-income patients from across the state, Wagner Family Orthodontics has built a solid reputation based on their thorough and compassionate care.
"It's nice to know people, and they know you. That way, you do feel part of the community," said Peter. "In a bigger town, it's just not as possible. The community has been supportive, and we've been supportive in return. It's been a great mutual relationship."
Dr. Peter L. Wagner
The "reigning" Wagner orthodontist, the younger Peter, is proud to continue the incredible legacy his family has left before him. Also citing a deep love for his community, Peter stepped into the practice after completing his orthodontic training at the Georgia School of Orthodontics after also attending OHSU for his Doctorate of Dental Medicine.
For Peter, the intricacies of orthodontics and the reward of improved smiles are what keeps him passionate about the field.
"You take a mouth full of crooked teeth, straighten them out, put them back together," he said. "What I've discovered since doing it is the artistic portion of orthodontics. There are a lot of little things that make a smile, and adding that to straightening teeth gives an artistic component to it. That's my favorite part, reshaping the teeth or contouring the gums to make a really nice result."
Building upon his family's established practice and wisdom before him, in addition to ever-advancing technology, Peter is growing the business more than ever. Long gone are his grandfather's hand-bent wire appliances or uncomfortable dental molds. Instead, Peter specializes in 3D imaging, digital orthodontics, and dentofacial orthopedics. While the current building has accommodated generations of Wagner patients, the lack of space and outdated wiring for new technology motivated him to begin building a new, upgraded office and continue expanding the Wagner legacy.
"We want to continue to serve as many people as we can and create beautiful smiles for all our patients," said Peter.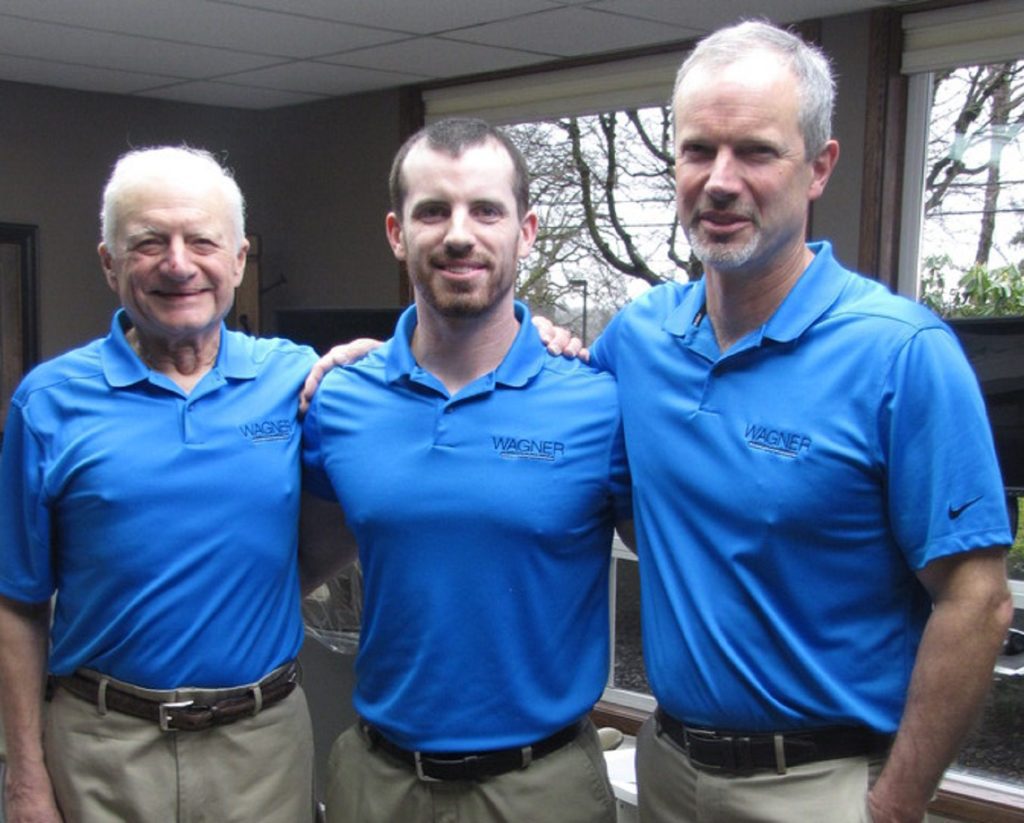 Dedicated Professionals With Wagner Family Orthodontics
Even though the Wagner practice has spanned three generations, that doesn't mean it was merely inherited. Competition for dental school, especially orthodontist specialties, is highly competitive, with limited spaces. An aspiring orthodontist must maintain high grades throughout their program and be willing to commit to a decade or more of higher education.
"It's something you have to be pretty motivated with," said Louis.
Fortunately, patients in the Southwest Washington region have been blessed with the expertise of the hard-working Wagner family and their combined wealth of knowledge. This dedication has even inspired former patients to seek letters of recommendation from the Wagner family for their own educational endeavors, and a few have gone on to become orthodontists, dentists, and hygienists.
So, how does a small-town practice continue to be successful for so long, especially when big cities offer more amenities? What makes Wagner Orthodontics ultimately so successful? "Doing the best job you can for each individual," claims Louis.
Wagner Orthodontics
1292 S Market Blvd., Chehalis 
360.967.9804