It's time to grab the winter gloves and head off into the forest with the family in the tradition of the season with a good old-fashioned hunt for the perfect Christmas tree. Luckily, charming farms in Lewis County offer beautiful Christmas trees to decorate your home this holiday season.


K and E Tree Farm
182 Wepsala Road, Winlock
Opening the day after Thanksgiving and open every Friday, Saturday and Sunday, 10 a.m. to 4 p.m.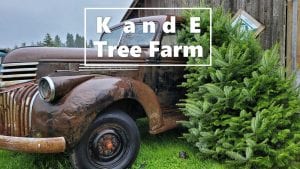 Established in 2018, K and E Tree Farm is a small family-operated farm located in Winlock. They currently sell wreaths, door charms, natural Noble and Grand fir Christmas trees. Prices for wreaths or door charms is $27, and trees sell for $45, your choice. All prices include tax, with cash being the preferred form of payment.
There are also many photo opportunities at K and E Tree Farm with a cool vintage '41 Chevy pickup sitting in front of the 100+-year-old Dutch style barn, plus a '59 Studebaker wagon hauling the family Christmas tree home and more.
Have your favorite photographer book a session at the picturesque tree farm by texting 206.920.2875 or emailing KandEtreefarm@gmail.com for pricing and session availability.
Mistletoe Christmas Tree Farm
268 Stearns Road, Chehalis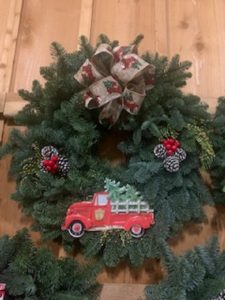 November 26 to December 5
Weekdays from 11 a.m. to 5 p.m. and weekends from 9 a.m. to 5 p.m.
Come experience traditional Christmas at Mistletoe Tree Farm. With U-cut and pre-cut trees available in all sizes, they offer Noble, Grand, Fraser, Nordman and Douglas firs for $10 per foot and up. Fresh wreaths are also available to adorn your door and greet holiday visitors. Visit during the weekends when they are open and see Santa himself from 11 a.m. to 2 p.m. On November 27 and 28, there will be an expresso truck on-site for warm beverages. Some handsaws are available, and no chainsaws are allowed.
Mendez Tree Farm
10510 179th Avenue SW, Rochester
November 26-28, December 4-5, December 11-12 from 9 a.m. to 4 p.m.
Head over to Mendez Tree Farm, just a short drive from Lewis County, for an affordable option. This fun, family-run farm offers Douglas fir trees in all sizes for $15. Most trees are 5-6 feet, but some are under 5 feet if you need something smaller. Wander the trees and cut your own with provided handsaws. Warm up with hot cocoa for just 50 cents and grab a free candy cane. Each weekend, there is also a holiday bazaar, so get some shopping done while picking the perfect tree. Cash or check only at this U-cut farm.
National Forest Trees
You can head to the woods to find that perfect Christmas tree with a permit to cut one in our local National Forests. Use this site to purchase your permit in advance and follow guidelines for the cutting area.
Here are a few tips:
Determine which participating forest works best for your Christmas tree outing. Each forest will have specific guidelines and season dates for cutting a holiday tree.
Be safe and prepared. Carefully read the details and rules of your permit, and follow the Need to Know suggestions to prepare for your visit.
Purchase and print your permit, so you're ready to find your perfect holiday tree.
Other Options
If heading out to the farm and chopping down a tree is not your thing, there are simpler options locally. Sunbird Shopping Center now has flocked trees ready to go.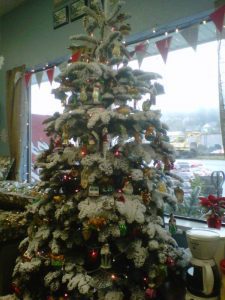 Kaija's Garden and Pet offer Noble, Grand and Nordman firs, as well as wreaths and garland. Trees are $6 per foot for trees up to eight feet and $10 per foot over eight feet. They also offer custom flocking and ready-to-take flocked trees. You can even bring your own tree for flocking. Custom trees need to dry for 24 hours. If you bring your own stand, they will stand the tree and wrap it in plastic for the trip home so all you have to do is decorate. Some people even put the lights on before flocking so it appears as if the lights were snowed on.
As a Collector's Center for Old World Christmas ornaments, Kaijia's extensive selection of traditional and unusual glass ornaments are perfect for decorating the holiday tree.
The holidays are here, and nothing says Christmas like the scent of evergreens. Decorate your home and heart this year with a tree found locally in Lewis County.
Where's your favorite farm to find the perfect Christmas tree in Lewis County? Send us an email at submit@lewistalk.com and let us know!